Get first insights & inspiration for your career in our livestream, joined by teams all around the globe
About this Event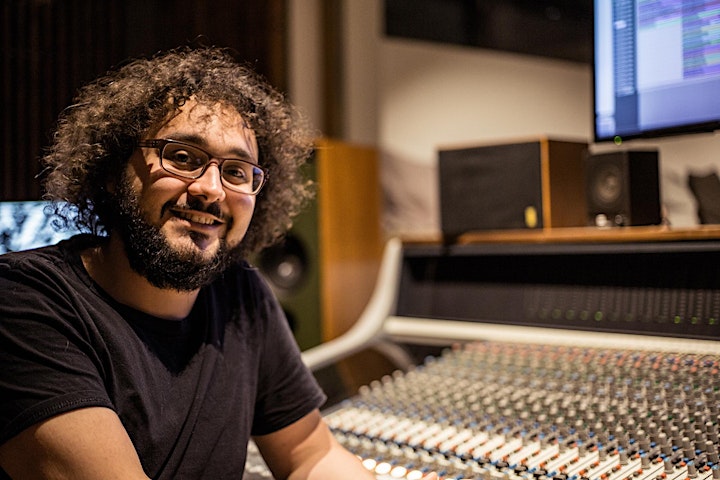 With our online stream you get the opportunity to be inspired and discuss with creatives from all over thew world.
Agenda:
Introduction to United POP Online
Free Workshops in Music & Sound with acclaimed industry professionals
State-of-the-art Web Based Training
Workshop Tour Indonesia
Interactive question/answer session & exchange with creative people
Bachelor of Arts as your ticket to the international media industry
Workshop: Sound Assistant - Vibrations and Waves with Farid Theune
In this workshop you will get insight into one of the most important topics of music and sound production: vibrations and waves. You will learn about the nature and workings of sound itself, how it travels, and how it is affected by its surroundings. The workshop will be conducted by one of our current online teachers to give you an excellent example of how online lectures at United POP take place.
Farid "Fakir" Theune was born in 1987 near Frankfurt, Germany. After graduating from School in 2007 he started to work as a sound engineer and producer for concert & music productions at the Frankfurt based record label and recording studio Hazelwood Vinyl Plastics with numerous national and international artists. He was part of the Frankfurt Deutsche POP Campus from the very beginning in 2012 and opened up his own recording studio Lotte Lindenberg in 2015 together with his colleague Wolfgang Gottlieb. Since 2015 he is also involved in the course development of the Bachelor program "Music Technology Specialist" and the development of the blended learning courses at United Pop. He has worked with international artists from Sony, Universal and Four Music and for companies like Lufthansa and German national radio stations.
Workshop: The Building Blocks of a Pop Song with Evan Low
The speaker will break down key concepts, and production methods in his career in the pop music industry. Topics will include song form, dynamics, tempo, instrumentation and song analysis from tunes that the speaker has produced.
About the speaker :
An IMDA Media Education Scheme Scholar, Evan graduated from the prestigious Berklee College of Music with a Magna Cum Laude in Bachelor of Music, majoring in Professional Music. Throughout his career, his versatility in his craft has seen him take on multiple leading roles in every aspect of the music industry. From engineering for David Foster and Nathan East, to composing for brands such as Adidas and Ebay.
A Singapore based music producer, Evan has produced and performed alongside artists such as iNCH, Linying and The Sam Willows with hit songs amassing more than 10 million streams. He has also collaborated with other creatives in the industry, creating multidisciplinary works in collaboration with the likes of visual artist, Sam Lo (SKL0), and urban dance crew, O School.
Powered by
United POP - academy of music, media & the arts
Bachelor Courses in cooperation with the University of West London
More than 35 Diploma Courses corresponding to professions within the creative industries
Over 50 individual Single Courses which can be combined as well as additional qualifications
Start Your Career:
your entry point into the music and media sector
Professional expertise and trainers with practical experience
Cutting-edge equipment
References and contacts due to project work
Direct practical experience in class
Flexible starting dates several times a year
Graduation with UNITED POP diploma and certificates
On-Campus, Blended Learning & Online Courses
Bachelor Course in cooperation with the University of West London