Get first insights & inspiration for your career in our livestream, joined by teams all around the globe
About this event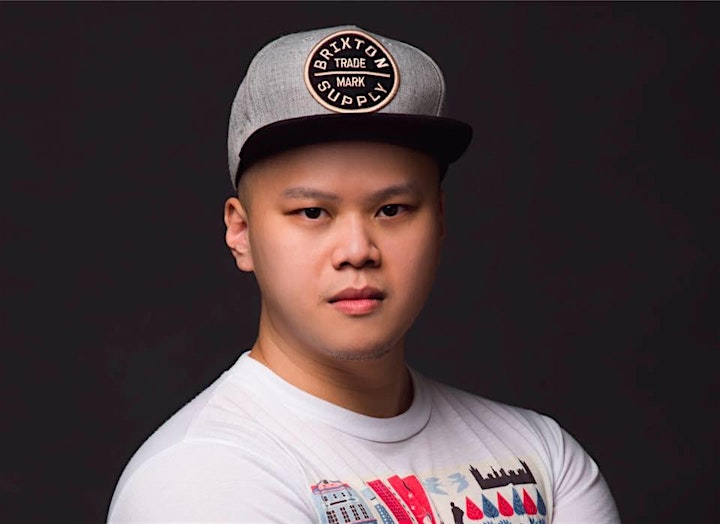 With our online stream you get the opportunity to be inspired and discuss with creatives from all over thew world.
Agenda:
Introduction to United POP Online
Free Workshops in Music & Sound with acclaimed industry professionals
State-of-the-art Web Based Training
Studio Tour Indonesia
Interactive question/answer session & exchange with creative people
Bachelor of Arts as your ticket to the international media industry
Workshop: Building yourself up as a modern-day music professional with Jason Jaydos Chong
Making and producing music in the present-day; how does it differ at the start of the 21st century
Essential skills to have and develop as a modern-day music professional
Finding your niche; strengths and weaknesses
Building a network of trusted friends around the world
Do I need to go to school?
Jason Jaydos Chong
Jaydos is a multi-instrumental songwriter, music producer and arranger hailing from the sunny island of Singapore.Starting his musical journey at the age of 14, his keen learning abilities has allowed him to teach himself instruments like the guitar, drums, keyboards and bass guitar, with the latter being his principal instrument.
He was awarded a scholarship by the Media DevelopmentAuthority of Singapore in 2010 to pursue a Bachelor's inCreative Technology, majoring in Audio Engineering &Sound Production at JMC Academy in Melbourne, Australia.
Jaydos was signed to Funkie Monkies Publishing as an exclusive songwriter and producer in 2014 upon returning toSingapore has since sold songs to various artistes and groups around the Asia-Pacific region. He has also written songs, arranged and produced for local & regional artists like 李紫婷 Mimi, SING女团, 張碧晨 Diamond Zhang,MC耀宗,孫盛希 Shi Shi,呂薔 Amuyi and many more. In 2016 he co-wrote and produced the song 《為夢想閃耀 - Shine On》alongside veteran Mandopop singer Derrick Hoh 何維健 as a theme song for the drama 'The Dream Coders《夢想程式》'which was aired on Mediacorp's Channel 8 in February 2017and has been nominated for the Best Theme Song for theStar Awards 2018.
He has also participated in songwriting camps organised by Funkie Monkies in Singapore, and Warner Chappell Music inKuala Lumpur, Penang and Taiwan respectively. He was 1 of the 2 Singaporean representatives to participate in MÜST's first ever International Songwriting Camp in Oct 2017
Jaydos has been sought after locally and regionally as an arranger and producer for his expertise and taste in theElectronic Dance Music (EDM), R&B, Hip-hop, trap andElectro-Pop styles of music. He is also a sought-after mixing and mastering engineer around the region.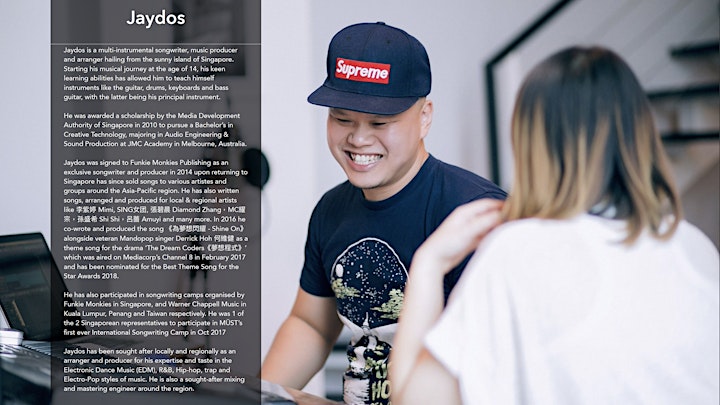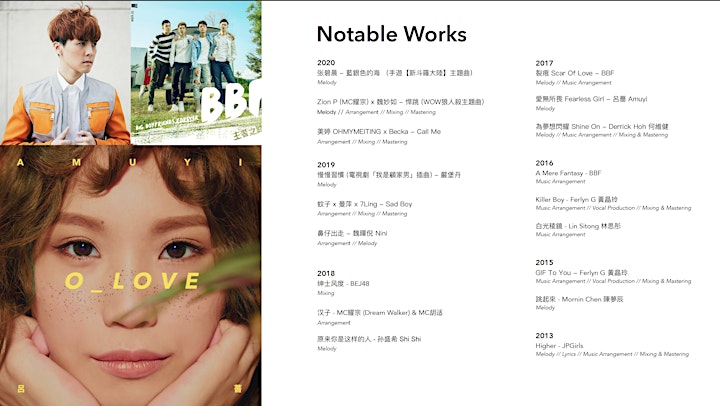 Powered by
United POP - academy of music, media & the arts
Bachelor Courses in cooperation with the University of West London
More than 35 Diploma Courses corresponding to professions within the creative industries
Over 50 individual Single Courses which can be combined as well as additional qualifications
Start Your Career:
your entry point into the music and media sector
Professional expertise and trainers with practical experience
Cutting-edge equipment
References and contacts due to project work
Direct practical experience in class
Flexible starting dates several times a year
Graduation with UNITED POP diploma and certificates
On-Campus, Blended Learning & Online Courses
Bachelor Course in cooperation with the University of West London
Organiser of Virtual Open Day - The Better Way of Learning - Career in Music & Media