Dieses Event ist beendet.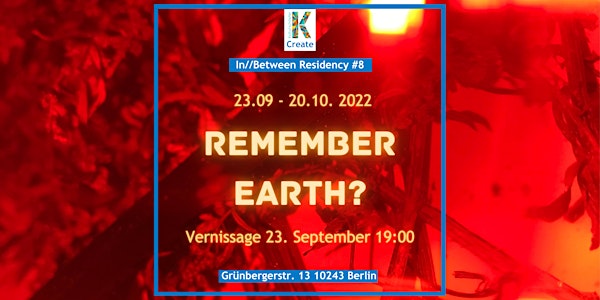 Vernissage "Remember Earth?" In//Between #8 Residency Exhibition
Join the Vernissage of REMEMBER EARTH? (23.09.22 at 19:00) An experimental exhibition which takes you to the year 3022 After Bees (a.B.!)
Zeit und Ort
Veranstaltungsort
Kulturschöpfer e.V. Grünberger Straße 13 10243 Berlin Germany
Karte und Wegbeschreibung
Zu diesem Event
REMEMBER EARTH? - Vernissage of Collaborative Residency Exhibition
Come to the Vernissage of the Kulturschöpfer In//Between #8 Residency Program and meet our four unique artists who used our Green Hill Gallery as a studio to create an exciting exhibition in one month. This collaborative project is all about bringing creative minds from all around the world together, in a space that does not belong to any one artist, culture, language, art form, or discipline. The result of this experience will be an exhibition that is influenced by each artist individually, but is also a sign of artistic team work, exchange and collaboration.
The artists of our IN//BETWEEN #8 now unveil the theme of the exhibition on THIS FRIDAY:
Remember Earth?
It's the year 3022 After Bees (a.B.) a collection of artifacts, fossils, sounds and images of the past are exhibited here as remnants of a lost civilization in a planet called earth. Something strange happened; researchers conformed of several disciplines are working together in order to discover what provoked their massive extinction.
You want to find out what will happen in the After Bees (a.B.)? You want to know more about the art inspirations of the artists? Then come and join us at the Vernissage on 23. September at 19:00!
The "Remember Earth" Exhibition will be up in Green Hill Gallery from 23rd September to 20th October!
Come and join us and meet the great artists:
Emilea Finch (Instagram)
Paula Nahmood (Instagram)
Yaoxi Wei (Instagram)
Caesár (Instagram)
Find more Info on our Website !