Event Information
Location
Parabolic Venture Design Studio
Filmbyen 2
8000 Aarhus
Denmark
Angular Ventures is coming to Aarhus. This event is a unique opportunity to meet with a leading VC firm during their visit to Denmark.
About this event
The leading European early-stage fund Angular Ventures is coming to Aarhus, Denmark. As part of the programme, Digital Hub Denmark is gathering the makers and shakers from the Aarhus startup ecosystem for a casual get-together where you can meet Gil Dibner, General Partner & Founder at Angular Ventures.
Join us for talks, networking & drinks with Angular Ventures and other ecosystem players & startups.
Program:
13.30: Arrival and networking, Parabolic Studio, Filmbyen 2, Aarhus
14.00: Gil Dibner, General Partner & Founder at Angular Ventures
- Introduction to Angular Ventures + Talk on Investor due dilicenge and fundraising in a global perspective
14.45: Networking + 1 on 1's
15.30: Thank you and goodbye!
The event is hosted by: Digital Hub Denmar, Startup Aarhus, and Parabolic Venture Design Studio
About Angular Ventures
Angular Ventures is a first-check venture capital fund based in London, Tel Aviv, and New York that backs early-stage enterprise tech companies from Europe and Israel. They typically invest between $250K and $2.5M as early as possible in a company's life cycle.
Their philosophy is: high-conviction (we are true believers in the founders we back); high-concentration (we work with very few companies per year); and high-impact (we work hard to be the most helpful investor on your cap table).
Companies that Angular has backed in the past include JFrog ($5B IPO), SiSense ($1B+), Snyk ($4B+), Front ($1B+), Firebolt, Chorus.ai, Aquant, Candu, Innovid, Datos, CruxOCM, Vault, and many others.
They've been fortunate to back companies that have gone on to raise capital from Sequoia, Accel, Redpoint, Index, CRV, Two Sigma, DFJ/Threshold, Boldstart, Bowery, Canaan, Uncork, Emergence, and other leading funds in the US. So far, within our portfolio at Angular Ventures, 2/3 of our portfolio has raised capital from leading US-based VC funds, and many are significantly marked up.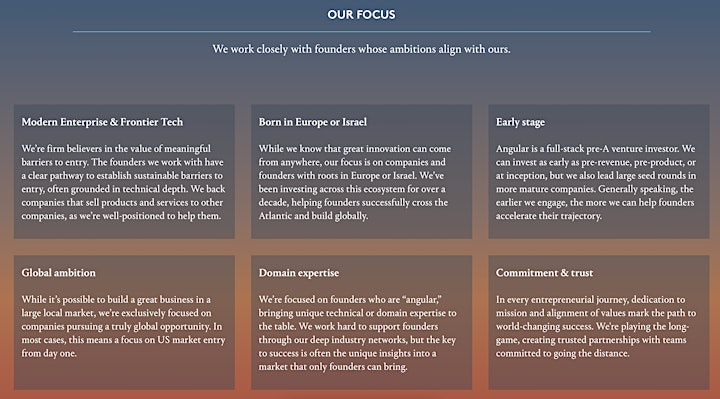 Date and time
Location
Parabolic Venture Design Studio
Filmbyen 2
8000 Aarhus
Denmark