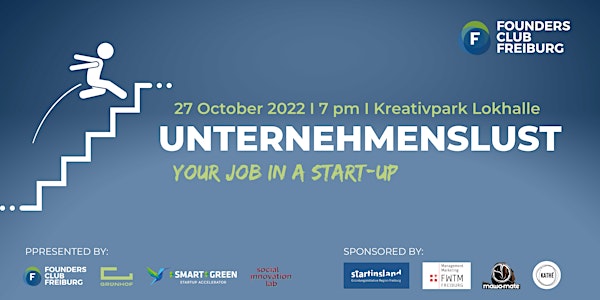 UNTERNEHMENSLUST 2022
The start-up job fair for students in Freiburg!
When and where
Location
Grünhof Coworking - Kreativpark Lokhalle Paul-Ehrlich-Straße 7 79106 Freiburg im Breisgau Germany
About this event
UNTERNEHMENSLUST is a job fair of a different kind, that brings motivated young minds together with start-ups so that they can get to know each other beyond what any digital job platform can provide.
On the one hand, innovative startups from the Upper Rhine Region can present themselves and look for co-founders, employees, and interns that fit their teams best. On the other hand, Freiburg students across all disciplines are introduced to the local start-up scene and get the opportunity to personally connect with the startup teams they are most interested in.
After the start-ups pitch (present) their projects and job offers, you can personally introduce yourself and ask all your questions at each start-up's fair stand. Together with snacks and drinks we create a comfortable environment to network for everyone who might not be as familiar with our local start-up network yet.
The pitching start-ups will be: 
BioCopy, WeTell, Digital Water Institute, ConstellR, GONOSH, Grimm Water Solutions, Actome, Recyda, Wiferion, Pitchview and Stadtwandler.
These diverse Freiburg start-ups are looking for people from all disciplines, among others: Marketing, sales, computer science, engineering, communication, design, medicine, biology, people & culture.
The event will be bilingual - mostly in English.
Entry is free but we kindly ask you to sign up online beforehand. Get a ticket for free now - there are limited seats in Krativpark Lokhalle!
Please keep in mind, the new starting time is 7 instead of 8 pm!
Further information on: https://foundersclub-freiburg.de/portfolio-item/unternehmenslust-2022/ !
Thanks to our sponsors Mawa Mate and Kathé for spicing up the evening with local & tasty drinks! https://www.mawa-mate.de/ , http://www.kathe-erfrischungen.de/
Thanks to our sponsors FWTM as well - Check out their start-up job offer/ demand pinboard on Startinsland https://www.startinsland.de/start-ups/ !