Refund policy
Contact the organiser to request a refund.
Eventbrite's fee is nonrefundable.
"...top keynote speakers and a very good opportunity to network with corporates with similar interests!" - Alica Merschmann, Jungheinrich
About this event
We are back! On Tuesday 14 June, we're hosting our online event "Unlocking Startups" once again. We'll shed light on the world of corporate startup engagement and connect you with the top innovation managers from every industry.
Whether you are a startup expert or haven't engaged with the topic yet - Unlocking Startups focuses on exchange. What's included: new connections, exchange of ideas and crucial tricks for sustainable success in the startup ecosystem.
Octorank has been working with innovation departments, countless startups and many investors for years. We understand how startups work.
What to expect
In two hours of intensive knowledge exchange you will
network in small groups with startup experts from established companies
gain exciting insights from Alice Dal Fuoco, Head of Innovation, PostFinance VNTR on the topic of "VNTRs approach to Open Innovation"
get useful tips on topics like "how can you engage with startups?"
For the event we use the innovative online event platform Remo. You will be able to move around in 2 dimensions, making online networking a pleasure.
On the stage you experience the keynotes (picture below) and at the "tables" you talk to each other via video in small groups (picture above).
Agenda
8:30–8:45 Meet & Greet
8:45–9:00 "How can you engage with startups?" Tim Vogelsang, Octorank
9:00–9:30 Keynote from Alice Dal Fuoco, Head of Innovation, PostFinance
9:30–10:30 Networking: Connect with innovation experts at tables of 6.
Exclusive community of innovation leaders from established companies.
3 steps for a successful Remo event:
1. Check that your OS and browser meet the requirements. Note: for those with a restrictive corporate firewall, it may be necessary to join via a personal device.
2. Test Remo on your device with this link.
3. Receive the official link a few days before the event.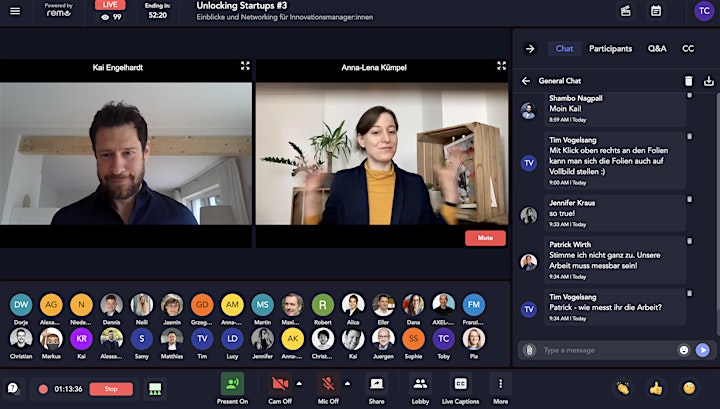 In our previous events innovation managers from these companies exchanged their ideas and insights: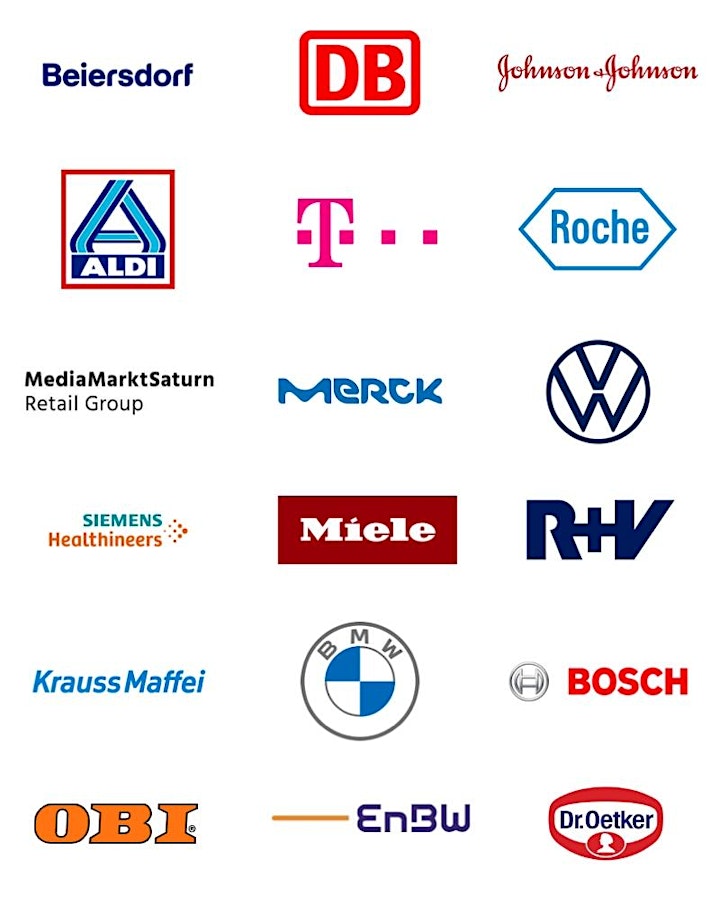 FAQ:
In what language will we host the event? The presentations will be held in English. Networking at the tables can of course take place in German, English or any other language, depending on the participants.
Who exactly is this event for? The event is explicitly aimed at innovation managers who are interested in best practices and experiences in working with startups.
How does the networking work exactly? It's really intuitive, like at a real event. Your circle moves by mouse click to one of the round tables to an existing table of maximum 6 people. You can talk there in a small circle or move to an empty table and wait for new conversation partners.
About Octorank:
Octorank helps established companies find the right startups and uses various formats and solutions for businesses to cooperate in a meaningful way. More about Octorank at www.octorank.com.
Conditions of participation:
There are individual tickets as well as tickets for teams with several participants - each participant must be registered by name. Tickets can be transferred to other participants up to one week before the event.
For an attractive networking experience, each participating company will get its logo on the logo wall here on the event page.
The event is exclusively aimed at representatives of established companies who want to use the potential of startups for themselves. Unfortunately, consulting firms, service providers, investors or other providers with a sales interest cannot participate in this format.
Prior to the event, a list of participants will be sent to all those who have released their data during registration. Only participants who have released their data themselves will receive this list.
Data protection:
The event will be held on the remo.co platform.
By participating in this networking session, you consent to the possible transfer of data to third countries such as the United States.
When you register to participate, the agreements between you and remo.co will apply. remo.co's privacy policy can be found here: https://remo.co/privacy-policy