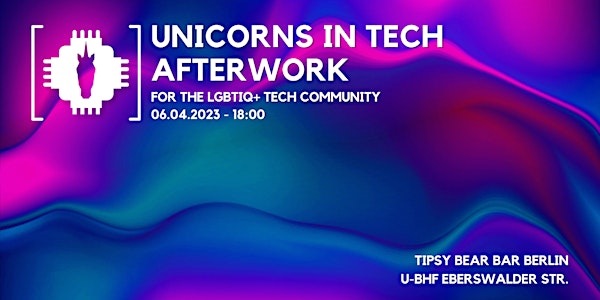 Unicorns in Tech Afterwork - April edition
Are you working in tech and part of the LGBTIQ+ community? Join us for our Unicorns in Tech Afterwork!
Von Unicorns in Tech | The LGBTIQ+ Tech Community
Datum und Uhrzeit
Do., 6. Apr. 2023 18:00 - 20:00 CEST
Veranstaltungsort
Tipsy Bear Berlin Eberswalder Str. 21 10437 Berlin Germany
Zu diesem Event
2 Stunden

Mobile E-Tickets
ABOUT THIS EVENT
Unicorns in Tech Afterwork is the Berlin networking event serie for the LGBTIQ+ Tech community. Taking place every first Thursday of the month, we get together for two hours of chats and networking in a relaxed and open atmosphere.
On the program: meet, get to know each other, and share a drink all together.
Come and meet your future new friends, colleagues, and maybe partner!
See you there!
IMPORTANT
As the cold weather is still around, let's meet inside the Tipsy Bear Bar, at the back of the bar.
The karaoke starts at 8:30 PM, right at the end of the afterwork. You are welcome to stay longer in the bar, but please note that you will then have to pay the 3€ entrance fee for the karaoke event.
If you are planning to come, please make sure to book your free ticket. It helps us estimate how many people will join and make the reservation for the group!
ABOUT US
UNICORNS IN TECH is the tech community for LGBTIQ+ & straight allies, founded in 2014 in Berlin. We connect 4000+ techies from all backgrounds, whether they're industry professionals or casual enthusiasts. On a monthly basis, we bring our community together around networking events, get-togethers and summit hosted by partnering companies.
Coming up next April is the Unicorns in Tech Hackathon - Stay tuned!
Website :: Become a Unicorns in Tech member
Follow us on Instagram, Facebook & LinkedIn for event updates.
Über den Veranstalter
Unicorns in Tech is a global LGBTIQ+ tech community that brings together LGBTIQ+ tech talents, companies and organisations striving for an open corporate culture based on diversity & inclusion. Since its start in 2014 in Berlin, the network of over 4000 members has been rapidly expanding through a myriad of events all year long and our online channels.
The community is directed to everyone who feels at home in the tech world, works for a technology company, or is simply fascinated by the latest technological inventions or apps. Our community members have the opportunity to network and share ideas, support each other and start new projects together, all in a relaxed and welcoming atmosphere.
Unicorns in Tech events are in the DNA of our community. We bring the community together every month through talks, panels, workshops and networking activities — both online and offline. We also organise the Unicorns in Tech Summit.
Sounds interesting? Become a member now!