Dieses Event ist beendet.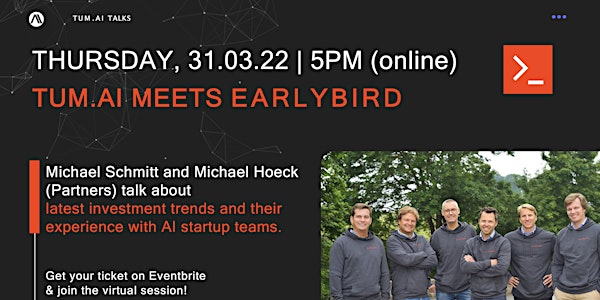 TUM.ai meets Earlybird - Workshop with two leading VC partners
"TUM.ai meets Earlybird" - Two thought-leading VC partners share their experience with university spinoffs and AI investments.
Von Venture Department - TUM.ai
Datum und Uhrzeit
Beginn am Do., 31. März 2022 17:00 (CEST)
Veranstaltungsort
Ankündigung folgt
Zu diesem Event
The experienced VC investors Michael Schmitt and Michael Hoeck from Earlybird are joining us for an online workshop. We will cover Earlybird's latest investment hypotheses in tech, their experience with AI startup teams, and which ideas they would love to see built by TUM.ai members in the future.
Earlybird is a venture capital investor focused on European technology companies. Founded in 1997, Earlybird invests in all growth and development phases of a company. Amongst the most experienced venture investors in Europe, Earlybird offers its portfolio companies not only financial resources, but also strategic and operational support as well as access to an international network and capital markets. Earlybird manages different funds with focuses on digital technologies in Eastern and Western Europe as well as health technologies. With EUR 1.5 billion under management, seven IPOs and 30 trade sales, Earlybird is one of the most successful venture capital firms in Europe.
Recently, Earlybird also raised their first UNI-X fund which is specialized in university spinoffs.
Zoom Access:
https://tum-conf.zoom.us/j/67936394542
Meeting-ID: 679 3639 4542
Kenncode: 060530