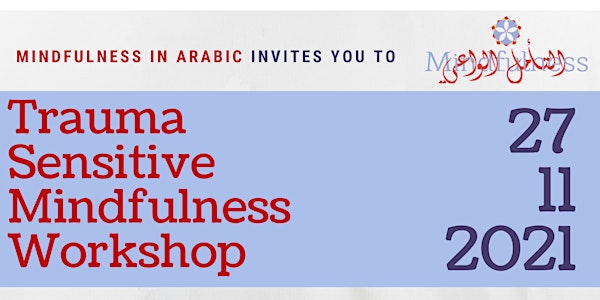 Trauma-Sensitive Mindfulness Workshop
Trauma Sensitive Mindfulness: Intro for Healthcare, Humanitarian, Mental Health, Wellness and Educational Professionals
Refund Policy
Contact the organizer to request a refund.
About this event
MiA's online Workshop: "Trauma-Sensitive Mindfulness Intro" with International Trauma therapist & Mindfulness specialist, MiA's director:
Juditta Ben David, MA SEP MMTCP
Are you curious about how mindfulness can be adapted for working in the Humanitarian field? Or be adapted for people with traumatic imprints? Are you contemplating using mindfulness in your clinic or community?
This workshop will introduce the use of Mindfulness, and trauma-informed mindfulness adaptations as tools for relieving stress and anxiety amongst people who have experienced trauma. It can be beneficial not only for refugees, but also for relief workers and counselors can better understand the ways in which they can help their patients and people they work with.
Through the use of lectures, field data, and stories from various populations and cultures – and, of course, experiential practice – this workshop will focus on sensitivity to symptoms, empirical research, and basic regulation tools regarding mindfulness and trauma.
Attendees are expected to know the basic tenants of mindfulness as a prerequisite for joining this course. Upon completing this workshop, you will receive a participation certificate signed by Mindfulness in Arabic, recognized in the TSM field.
The workshop is in English.
Mindfulness in Arabic (MiA) is dedicated to providing trauma-sensitive, culturally-adapted mindfulness training in Arabic. We believe that providing Arabic-speaking refugees access to mindfulness tools and supporting a ground-up community of practitioners and facilitators to be, will reduce violence, stop the perpetuation of trauma, and support world peace work.
The workshop is Donation Based.
All proceeds go to the development, publication, and continued maintenance of MiA's free 8-week online course, and to our workshops for the first responders.
Juditta Ben-David, MA SEP MMTCP, is a psychotherapist and international lecturer in the field of mindfulness-based treatment of trauma, and resiliency-building; MBSE, CRM, DARe, SE, EMDR, and TSM are a few of her tools. She has offered her skills and has trained personnel in Africa, the Middle East, and Europe. Juditta is a seasoned meditator and advanced instructor of Mindfulness and Compassion practices. MMTCP, MBSR, MSC, and more. She is the founder and director of the humanitarian ToWo group, GHS, and now MiA. Her unique expertise lies in embodied practices, supervisory skills, and cross cultural sensitivity.
More info at: www.mindfulnessinarabic.org
Invited! Do join us.