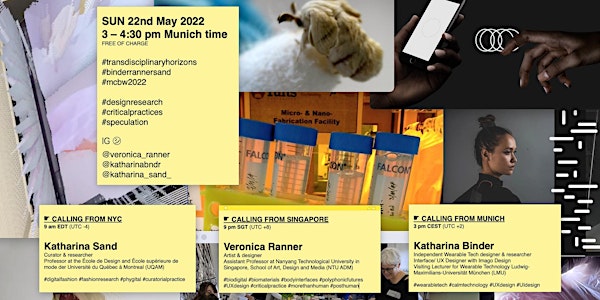 Transdisziplinäre Design-Horizonte — Transdisciplinary Design Horizons
Katharina Binder — Veronica Ranner — Katharina Sand - Designforschung und das Potenzial von Spekulation und Transformation
About this event
Dieses Panel der Munich Creative Business Week bietet eine aktuelle Diskussion zwischen angewandter Designpraxis und Designforschung an. Die Vortragenden arbeiten transdisziplinär — mit lebenden Biomaterialien, digitaler Mode, im bio-digitalen Interfacing, Body Interfacing und Wearables – geprägt von aktuellen Diskursen in der Systemtheorie, neuem Materialismus und Posthumanismus.
Die thematische Diskussion wird angewandte Ansätze aus Forschung und Praxis behandeln, die den menschzentrierten Fokus hinterfragen, ökologische Belange aufzeigen und die durch die Pandemie beschleunigte digitale Transformation adressieren.
Wie können Designer*Innen dazu beitragen, neue transdisziplinäre Horizonte im Angesicht globaler Veränderungen und Transformationen zu erkunden?
Wie können Spekulationen und kritisches Hinterfragen dabei helfen, menschzentrierte Sichtweisen zu überwinden?
—————————
This Munich Creative Business Week panel presents a discussion between design practitioners and design academics who work across the interstices of disciplines — living biomaterials, digital fashion, bio-digital interfacing, body interfacing and wearables, informed by the latest discourses on systems thinking, new materialism and post-humanism.
The speakers will present a thematic discussion between applied approaches across research and practice, spanning beyond human-centred thought to address ecological concern, and the emerging space of digital transformations.
How can designers explore new transdisciplinary horizons at the onset of global-scale change and transformation?
How can speculation and critical thinking help us overcome a human-centric focus?
Englisch / Publikumsdiskussion in Englisch und Deutsch