Event Information
Location
YapiKredi bomontiada
Tarihi Bira fabrikasi
1 Bomonti Arkası Sokak
Istanbul, İstanbul 34381
Turkey
Hosted by Eda Çarmıklı and Markus Lehto
About this event
Shape-shifting from Me to We as the essence of unity, community, and healing.
"What you seek is seeking you"was Rumi's beautifully simple way to express one of life's most complex truths: What frequency we put out into the world is reflected back to us in our life experience. The Zulu notion of Ubuntu expresses a similar belief: "I am because you are, you are because I am."
Now, maybe more than ever, we need to be reminded that we do not live for ourselves alone, but in communion with all living beings through the invisible threads of energy, frequency, and emotion that connect us all. We humans are all both waves and particles and belong to both the material and dematerialized realms, though we have all but forgotten what that means and how to harness that wisdom for deeper connection.
At the Istanbul Hub of the Great Wave, we will focus on unity—and community—through explorations into frequency and resonance to help tune us into ourselves and each other and take a few more steps towards exponential humanity.
Join Zoom Meeting
https://us02web.zoom.us/j/86317141729?pwd=bURid0pWTXQ4Ry9KRDZVdkVIemUzZz09
Me: Who am I? Can you fully ever know yourself?
Moderated by Eda Çarmıklı, Utopian
Sema Demirkan, Mindfulness & Resilience Coach
Özlem Özülker, Healer
Orkun Özocak, Psychologist
We: Transcending the ego to evolve our eco-systems
Belçim Bilgin, Actress, Activist
Yasemin Sırali, Social Investments Director, FIBA Holding
Engin Ayaz, Co-Founder, Atöyle
Unity: Are we ready to transcend 3D duality to create new layers of technological reality at higher consciousness?
Moderated by Markus Lehto, Utopian
Michael Sheldrick: Co-Founder and Chief Policy and Government Affairs Officer, Global Citizen, New York City
Richard Hsu: Community Builder, Founder, Pan Asia Network,Shanghai
Michael Healy: Co-Founder, Unit Ventures, Bali
Weynand Kuijpers , Co-Founder, Threefold Foundation, Dubai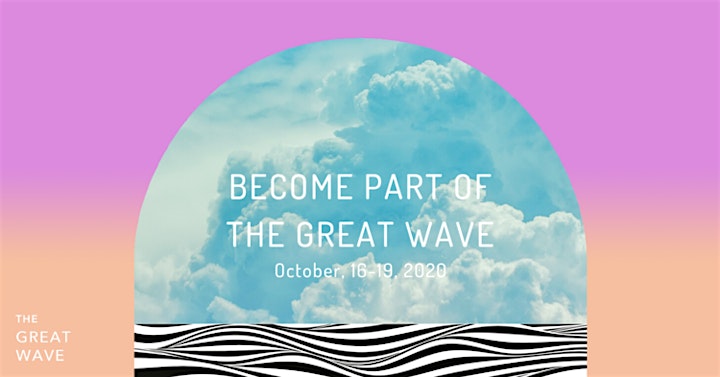 The Istanbul hub is part of The Great Wave, the first-of-its-kind virtual and in-person festival that will connect thousands of people around the world from October 16-19, 2020 to explore how we can reinvent business, our organizations, and ourselves.
To reserve your spot, please get your The Great Wave pass. Once you hold a pass, you receive a password to sign up on this Eventbrite page for the hub. Due to limitations on crowd size, registration and admittance for hub events are first-come, first-served.
Virtual and in-person, global and local, indoors and outdoors, in cities and nature, alone and together, The Great Wave is an extraordinary festival for extraordinary times. View the global program here.
The Great Wave is a creation of the House of Beautiful Business, a global think tank and community to make humans more human and business more beautiful.
Any questions? Please email us at collaborate@thebusinessromanticsociety.com
Date and time
Location
YapiKredi bomontiada
Tarihi Bira fabrikasi
1 Bomonti Arkası Sokak
Istanbul, İstanbul 34381
Turkey