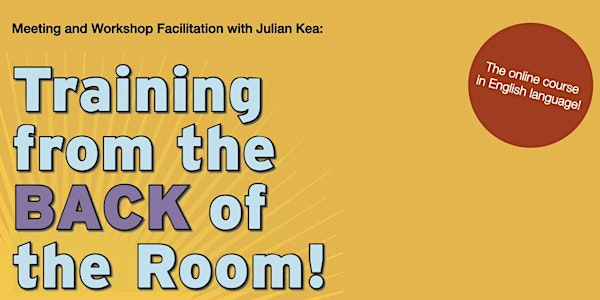 Training from the BACK of the Room Practitioner - Virtual Edition, English
Meeting and Workshop Facilitation with Julian Kea:
Refund Policy
Refunds up to 7 days before event
About this event
Preparing knowledge in an engaging, "brain-friendly" and interactive way is a compelling prerequisite for participants to reflect on their own behaviour, try out new behaviour and commit to apply it in their day-to-day life. This training supports you in designing effective training and workshop sequences.
Join a growing number of learning specialists that ensure learning sticks!
Who invented 'Training from the BACK of the Room'?
Sharon L. Bowman. She has written seven popular training books and is the president of Bowperson Publishing & Training. Sharon has been a professional speaker, author, teacher, and trainer for over forty years. She works with people who want to fine-tune their information-giving skills, and businesses and educational institutions that want to offer exceptional in-house staff development programs.
"When asked to describe what Sharon does, she replies, "I teach teachers how to teach, and trainers how to train." She is a veteran trainer who puts her words into action, engaging learners from the moment they enter the room until the moment they leave. She uses a unique, high-energy, informal, hands-on approach to learning. Her workshops and classes are practical, useful, memorable, and fun. More than 70,000 of her first seven popular training and motivational books have been printed." [see author profile of the publishing house dpunkt, 2021]
Her popular two-day 'Training from the BACK of the Room (TBR)' course is one of the favorite train-the-trainer resources of agile coaches and trainers worldwide.
The 'Training from the BACK of the Room (TBR)' online course has been available since October 2020 and was developed by Sharon Bowman and 12 certified TBR trainers from the US, UK, Netherlands and Germany. Julian Kea is co-creator of the TBR online course.
Find out more about Sharon L. Bowman and TBR here: http://bowperson.com.

Your Learning Outcomes
Apply 6 brain-science principles – based on cognitive science – every time you deliver virtual training, regardless of the complexity of the topic, size of group, or level of learners.
Use the 4Cs Map as a training design and delivery model for brain-based, virtual instruction.
Create virtual training sessions that combine your own topic and materials with the brain-based concepts and strategies from the class and demonstrate how to leverage the strengths of virtual learning environments for maximum long-term retention.
Explain to colleagues your understanding of cognitive science as it applies to learning, training and memory in both virtual and face-to-face environments.
Choose from dozens of virtual brain-based learning activities for all topics.
Receive a 'Training from the BACK of the Room - Virtual Edition (TBR-VE)' certificate of completion that declares your competence as a TBR-VE Practitioner in good standing.
Become an active member of the TBR Practitioners Group on Slack, a global community of trainers, teachers, instructors, coaches, and learning facilitators who collaborate and share best practices in brain-based learning and instruction.
Who should attend?
Facilitators, teachers, trainers, coaches or managers who design or facilitate workshops, meetings or other learning events.
Anyone who wants to address an audience and wants to make sure that learning and knowledge "sticks", whether in meetings, workshops or training sessions.

How can you prepare for this online course?
Reserve these dates: 17.1., 19.1., 24.1., 26.1. and 31.1.2022, always from 15:00-17:30 CET - that's 9:00-11:30 EST and 6:00-8:30 PST.
Reserve additional time to do the pre- and post-work (aka Warm-Ups and Follow-Ups). These asynchronous elements (aka Priming and Spaced Practice) are an integral part of the course and brain-based learning. Please reserve 60-90 minutes before and between the modules as these are important to your success as a TBR-VE class participant.
Please install the latest version of your browser and the Zoom software (https://zoom.us/download#client_4meeting). We will use the latest functionalities.
It is best to use a headset and a notebook/desktop PC. On a phone or tablet you may not have all the features required for this course. If you like, you can additionally use a tablet.
Get familiar with our digital whiteboard tool. We will be using Mural (http://mural.co). You do not need to have a personal account and yet we recommend setting up your own free account to try out and get to know this go-to tool.
We are using Slack (http://slack.com) for communicating with each other. Our data is hosted in Frankfurt am Main, Germany.
Please print out your workbook or have a tablet ready for handwritten notes. Handwriting (not typing) is an important part of brain-based learning!
If you have any questions or would like to get to know us beforehand, please contact TBR@kiLearning.net. And have a look at these videos and feel free to directly record your questions here: https://feedback.kilearning.net/fkppf1ih1.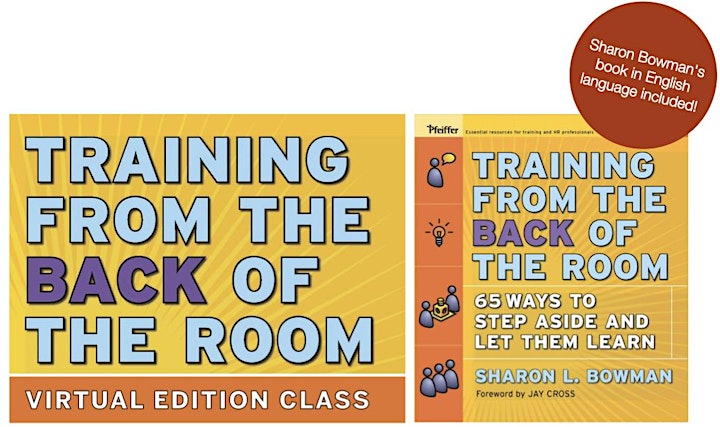 What is included in the course fees?
The 'Training from the BACK of the Room Practitioner - Virtual Edition' course with five live sessions facilitated by Julian Kea, TBR Certified Trainer and TBR-VE Co-creator
A maximum number of 12 participants.
The 40+-page resource workbook: Training from the BACK of the Room – Virtual Edition Class (English Language)
The e-book: Training from the Back of the Room - 65 Ways to Step Aside and Let Them Learn (English Language), by Sharon L. Bowman
A 'Training from the BACK of the Room - Virtual Edition' certificate of completition.
A registered digital badge for your online profiles and social networks.
A downloadable whiteboard documentation.

Your 'Training from the BACK of the Room' facilitator (TBR-CT)
Julian Kea is a serious games facilitator, consultant and coach for capacity development. As an Experiential Learning enthusiast he believes in the power of co-creation and highly interactive learning approaches. His toolset includes interactive minds-on facilitation techniques, feedback-driven learning and change management approaches, empathy, and a healthy dose of self-awareness. His background in Business and Education equip him with the skills to design and hold spaces, where participants can exchange ideas authentically, develop mutual understanding and strengthen collaboration.
In 2016, Julian Kea was trained by Sharon Bowman to become a certified trainer for Training from the BACK of the Room (TBR-CT). He developed the official Training from the BACK of the Room – Virtual Edition Class (TBR-VE) together with Sharon Bowman and 11 certified TBR trainers from the USA, the UK and the Netherlands. His customers include teachers, freelance trainers, workshop facilitators, agile coaches, and executives from medium-sized businesses and corporations.
Julian's Mantra is "Rediscover Learning. Work Smarter."
Julian is the voice behind the #SeriousGamesPodcast (http://SeriousGamesPodcast.com) and the creator of #TheDebriefingCube (http://TheDebriefingCube.com). He hosts the #LSPmeetup around LEGO® SERIOUS PLAY® (http://LSPmeetup.com) and the unconference #play14 around serious games in Berlin (https://play14.org/). Julian tweets via http://twitter.com/kiLearning/.
Known from:
The fine print
#play14 and #LSPmeetup community members and BDVT members receive a 5% discount on all ticket categories, please contact us before booking.
Refund Policy: (1) Up to 7 days before course start 100% refund, (2) less than 7 days - no refund, only transfer to a substitute person (name substitution). (3) Any course materials that were already sent, such as workbooks, books and access codes, are non-refundable or non-transferable and will be charged at 15% of your ticket price in the event of cancellation or transfer.
The complete General Terms and Conditions (GTC) of [ki:]®Learning can be found here: http://www.kilearning.net/impressum.
Please note that connection costs are not included in the course price. No paid access is required for the platforms and tools we use. If preferred, you may use your existing ones.
Please note that we store personal information in our Customer Relationship Management (CRM) software and that we will forward your name and email address to Bowperson Publishing & Training, Inc.'s certification office in Glenbrook, Nevada/USA and forward your name and address to our shipping partner.
Our tips for your learning space
Change your sitting position regularly, use different seats if possible, or consider standing.
Think about and prepare what you want to drink and eat during the sessions.
Please make sure that all your notebooks, tablets, headphones, mice etc. are charged and connected.
Make sure that your are in a quiet space with lots of fresh air.
PS. Do you want to book this course exclusively for your team? Please contact us to learn more about our in-house version.
Learn more about what participants say about this and other train-the-trainer workshops: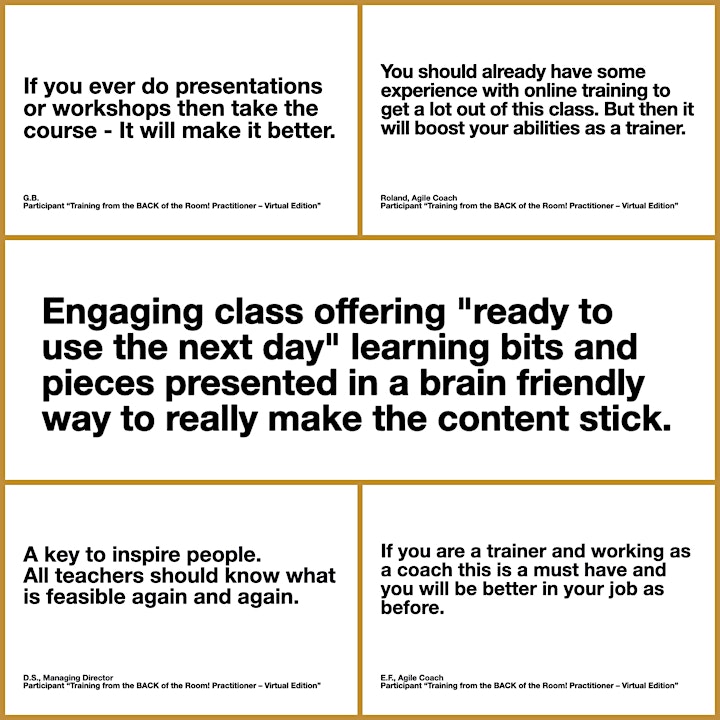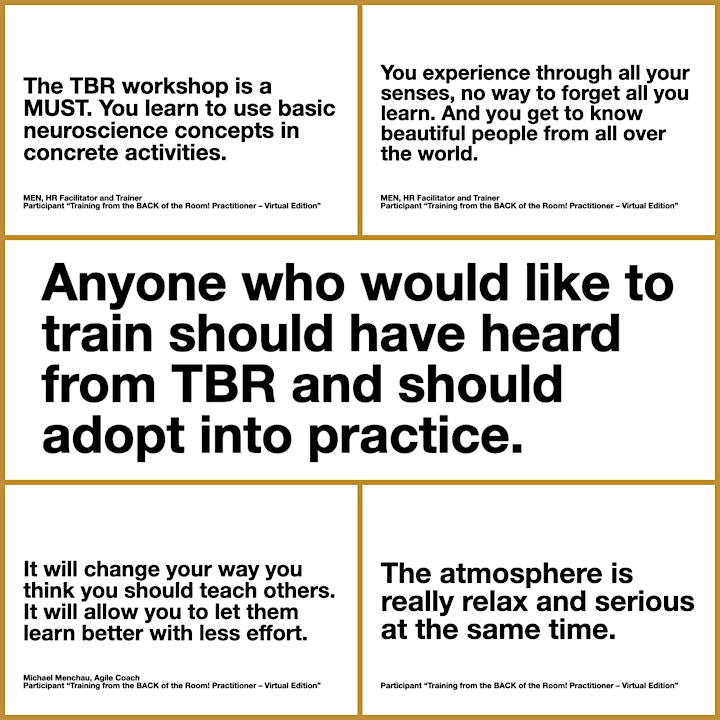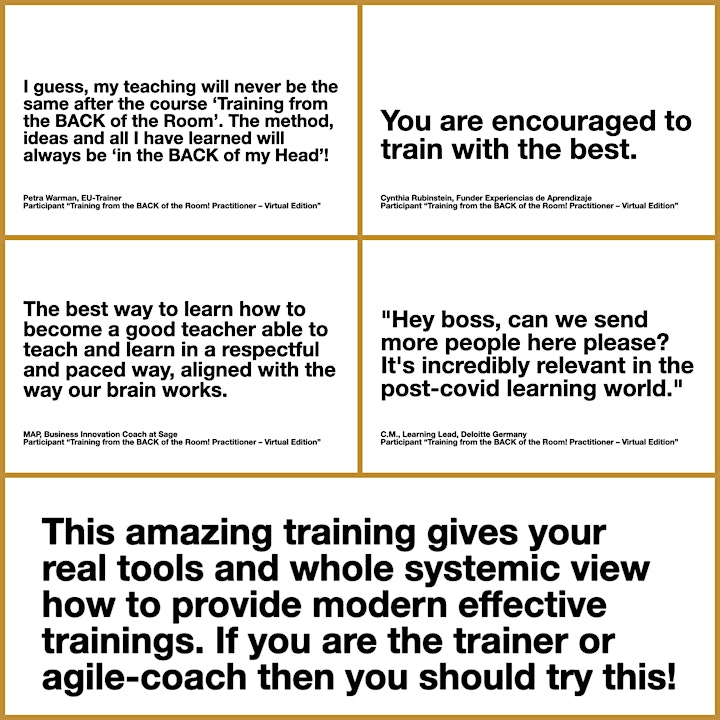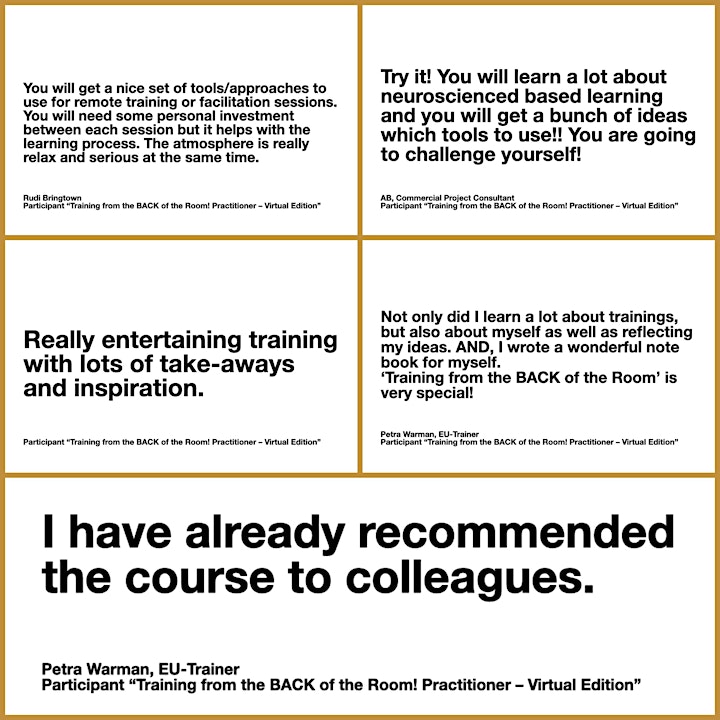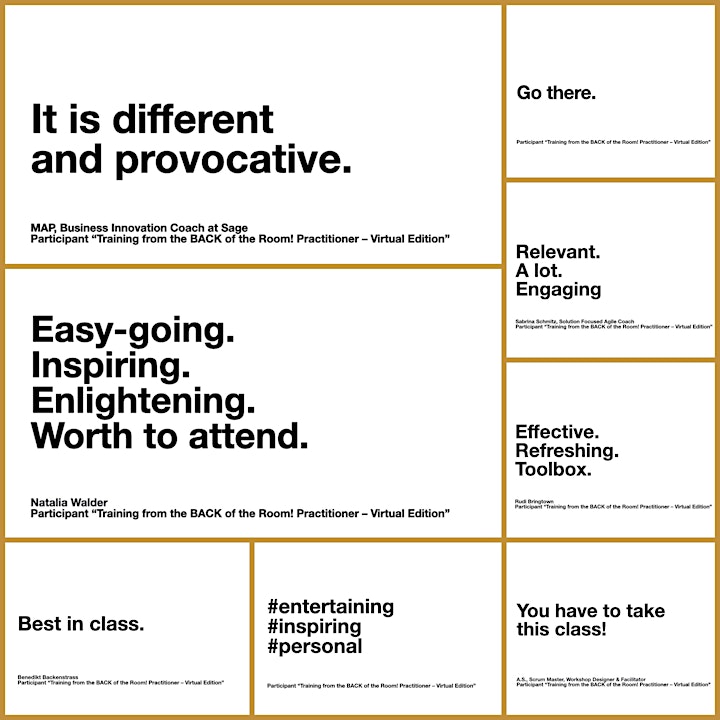 PPS. Ja, wir sind zweisprachig! Wenn Sie diesen Kurs intern oder in deutscher Sprache bevorzugen, sprechen Sie uns bitte an: TBR@kiLearning.net. Der nächste Kurs in deutscher Sprache startet am 7. Januar: https://tbr-ve-de-0122.eventbrite.de