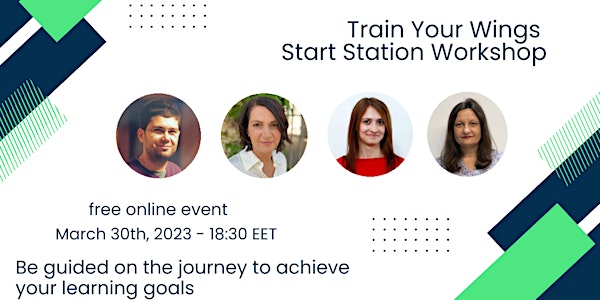 Multiple dates
Train Your Wings - Start Station Workshop
Train Your Wings - Start Station Workshop
Date and time
March 2 · 8:30am - March 30 · 10:30am PST
About this event
Do you want to make a change in your career and join the IT field? Or you work in IT and want to grow in your role?
Maybe you had planned for it, and at some point you gave up and did not complete it. It is frustrating, right?
We feel you and we are here to offer you support in the areas of Agile, Software Development/Architecture, Business Analysis, Management/Leadership.
Who are we?
We are a team of coaches and mentors:
Andra Popa - coach & mentor Management/Leadership
Cristina Gheorghiu - mentor Business Analysis
Laura Huma - mentor Agile/Project Management
Marius Popa - mentor Software Development/Software Architecture
Join us in a FREE 2h online workshop to:
Dig together into the reasons why we fail to reach our objectives
Guide you on what steps are suitable for your journey
Discover with us new ways to make your goals possible by participating in the Train your wings program
What's in it for you?
Explore what stops you from reaching your growth objectives
See the benefits of working with a mentor
Find out how Train your wings 2 months program can help you fulfill your plans
* By registering for this event, and providing your email address, you will automatically be signed up to our email list to be informed of future opportunities. You have the option at anytime to unsubscribe to the above by clicking "unsubscribe" at the bottom of the email.