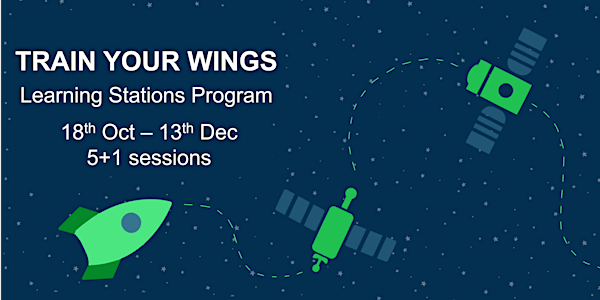 Train Your Wings - Learning Stations Program
How many times were you excited to start learning and then, on the way, you lost the energy to finish?
Date and time
Tue, 18 Oct 2022 08:30 - 10:30 PDT
Refund Policy
Contact the organiser to request a refund.
About this event
We plan to learn a new topic, and at some point we give up or we start a new topic before finishing this one. It's frustrating, right?
Join us in this 8 week online coaching program. Up to 8 participants. Sign up fee is 120€ euro.
In the program you will:
Create and achieve a 2 months learning goal and build a plan that works for you
Be guided and discover what stops you in achieving the learning goal
Participate in a group environment for 2 months, support each other
Find your own way to achieve goals and get ready to fly on your own
This program is for you if:
You want to learn something and you are not doing much about it
You have goals and you don't follow through
You want to learn how to plan goals in a way that works for you
Schedule:
Session 1 – Group : The Creation – 18th Oct, 17:30 – 19:30 CET (2h)
Session 2 – Individual – to make it clear that relates to the clear goal + plan : The clear pathway – to be scheduled between 1st and 2nd group session – bonus (30 min) – Cristina or Andra
Session 3 – Group : Reflect & Monitor – 1st Nov, 17:30 – 19:00 CET
Session 4 – Group : Reflect & Monitor – 15th Nov, 17:30 – 19:00 CET
Session 5 – Group : Reflect & Monitor – 29th Nov, 17:30 – 19:00 CET
Session ++ – Individual – in case of lack of progress – bonus (30 min) – Andra
Session 6 – Group : Fly on your own – 13th Dec, 17:30 – 19:30 CET (2h)
What's included:
4 group coaching sessions, 1.5h-2h
A 30 minute 1:1 coaching session with the coach
Private group with up to 8 participants and the coach
Support from the coach for the entire duration of the program
Prompt response from the coach to all your questions during the program
About us
Andra Popa - I am a leadership and communication coach, ICF Associate Certified Coach, with more than 15 years of experience leading technical/ IT teams. I am highly trained in coaching, communication, leadership and teamwork. My passion is helping overwhelmed managers stop and reflect on what's important so they can improve their well-being and performance at work.
Cristina Gheorghiu - I've been working in IT for 20+ years and my base profession is Business Analysis, which, in short, is a combination of communication skills and systems thinking. Throughout the years I've become more aware of the way people nurture themselves so they can lead others. My mission is to promote communication and leadership in any circumstance. Within the Leaders Being Heard project I facilitate the communication activities.