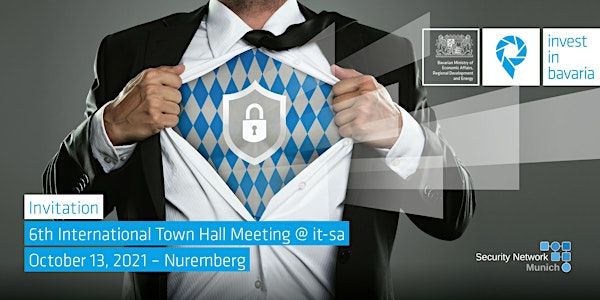 Town Hall Meeting @it-sa
6th International Town Hall Meeting @it-sa - where true heroes meet!
Date and time
Wed, 13 Oct 2021 12:00 - 14:00 CEST
Location
NürnbergMesse @it-sa | NürnbergMesse | Nuremberg Messezentrum | Room/Saal: St. Petersburg 90471 Nürnberg Germany
About this event
A good tradition is coming back: Invest in Bavaria and the Security Network Munich are very pleased to once again host the international Town Hall Meeting @it-sa live directly from the exhibition hall for the first time in 2 years!
This edition will look at the recent developments in the security sector with expert insights from different angles on what to expect in the near future in technical developments but also with regard to threats and risks.
Be part of this unique industry gathering and expect keen insights from different angles by highly regarded security experts including Siemens, Blue ID, Bitkom, Rapid 7, Guardian360 and W TRUST!
Date: Wednesday, October 13th, 2021 – 12:00 to 14:00
Admission: 11:30 am
Location: Raum Sankt Petersburg, NCC Ost, Messezentrum Nürnberg
After the programme we are happy to invite you to refreshments and lunch.
Note: "first come – first served"
We would love to welcome every single one of you – however this year we have very strict rules regarding the maximum capacity of people allowed in the conference room and therefore seats will be allocated on a "first come, first served" basis on the event day. Admission starts at 11:30. Thank you for your understanding!
By registering for our event you will receive an E-Code for a free ticket for it-sa 2021. Please inform yourself about the hygiene concept of Messe Nuremberg regarding entrance and rules during the fair.
We look forward to welcoming you!
Invest in Bavaria & Security Network Munich
Agenda
12:00 | Welcome & Introduction
Veronika Reichl | Invest in Bavaria
Peter Moehring | Security Network Munich
12:05 | Impulse Speech
Jan Wendenburg, Founder of W TRUST and former CEO of Certgate
12:15 | Panel Discussion
"Cybercrime & Evolving Threat Landscape – How to ramp up cyber resilience?"
Moderator: Sebastian Artz, Head of Cyber & Information Security| Bitkom e.V.
Wolfgang Klasen, Senior Manager Security | Siemens
Philipp Spangenberg, CEO | Blue ID
Fabian Guter, Senior Key Account Manager | Rapid7
Jan Martijn Broekhof, Managing Director | Guardian360
13:00 | Lunch
Note on data protection:
Responsible for the data processing of the events is Invest in Bavaria - Die Ansiedlungsagentur des Freistaats Bayern at Bayern International Bayerische Gesellschaft für Internationale Wirtschaftsbeziehungen mbH; Landsberger Str. 300; 80687 München; Tel.: +49 89 660566-0; Fax: +49 89 660566-150; E-Mail: info@bayern-international.de and Bayerisches Staatsministerium für Wirtschaft, Landesentwicklung und Energie; Prinzregentenstraße 28, 80538 München; Telefon: 089 2162-0; Telefax: 089 2162-2760; E-Mail: info@stmwi.bayern.de; When you access the website of our service providers used for this event, the provider of the website is responsible for the data processing.We process the data provided by you in regard to the event for the following purposes:• Planning, implementation of the event; • Event organization and participant management; • Ensuring that the event runs smoothly; • Participation in the event and identification of participants; • Administration, processing, documentation ; • Communication with participants during the execution of the event; • Information about the event before, during and after the event.
For event registration, we use an event platform for the technical planning and implementation of the event. The event platform processes the data according to our instructions. Your data will be passed on to the event platform for this purpose. Eventbrite, Inc., einem in Delaware, 155 5th Street, Floor 7, San Francisco, CA 94103, USA
Your data will be stored until the end of the event and as long as they are still needed for the implementation of the event or further processing of the respective data.
We are hosting the event together with our event partner: Geschäftsstelle des Sicherheitsnetzwerk München e.V.; c/o Giesecke+Devrient GmbH; Prinzregentenstr. 159; 81679 München; T. 089 4119 1296
In the case of a joint event, our partners have a legitimate interest in knowing which participants attend the joint event. Insofar as you do not wish such disclosure, you may exercise your right to object under the conditions of Art. 21 GDPR.
For more information, please visit our privacy policy.
About the organiser
Invest in Bavaria is part of the Bavarian Department of Economic Development. The public agency is responsible for international companies entering the German market and establishing themselves in Bavaria.