Description
TOUCHING INNOVATIONS 2019 is Berlin's largest, dedicated Internet of Things Startup Event; presenting 50+ speakers, 20 exhibitors and 15 pitches from different IoT fields.
NETWORKING, FUNDRAISING, INSIGHTS.
A must attend by: prospective founders, co-founders looking for founding-partners, IoT/IIoT startups seeking funding, partners, customers or M&A, by Venture Capital Firms, Business Angels, Corporate Ventures, Corporates looking for external innovations or M&A, Innovation Hub Executives, Investment Banks, Accelerators and all IoT adventurers.
Apart from exponential networking during the entire event, prospective founders and existing startups will get the opportunity to pitch their vision in 10-minutes pitches (7 mins. pitch + Q&A) to win business angels, venture capital, co-founders, other partners, as well as corporates and customers.
Investors, corporates and buying centers from selected industries will be sharing their view on market requirements and company objectives for the upcoming years to find their potentially new suppliers or partners from the startup-crowd.

EXCITING SPEAKERS AND ONSITE-ACCELERATION
In a wide range of presentations, international experts will cover various topics and take you through the latest trends and research in future tech, e.g. about IoT sensors and actuators, smart textiles, wearable technology, connected cars, smart factories, artificial intelligence & machine learning, augmented, mixed & virtual reality, esports, as well as digital marketing, cryptopayment models, DLT/blockchain, patents & copyrights, lab & venture building, valuation methods for tech startups, growth & exit strategies, M&As, and many other topics.
Our speakers include:
• Permanent Secretary @ Berlin Senate | Christian Rickerts
• Vice Group Chairman + Member of the Fed. Board @ FDP | Christian Dürr
• CEO @ Triangle Venture Capital Group + FunderNation | Uli Fricke
• CEO @ Seedlab + Member IOTA Foundation | Regine Helmer
• Accelerator + Coach @ AXA Startup Center | Dirk Lui
• Territory Manager @ Google | Lewin Giselbrecht
• Head of M&A @ Carl Finance | Felix Engelhardt, CFA
• Senior Scientist @ Fraunhofer FOKUS | Axel Rennoch
• Project Manager @ DIN | Amelie Leipprand
• Startup Consultant @ IHK Berlin | Julia Lazaro
• CEO + Founder @ TARGET E-Sports | Michael Decker
• Partner @ TIGGES Lawyers + Chair @ ECTA | Micaela Schork, LL.M.
• Partner + Head of Technology @ Redstone | Stefano Gurciullo, PhD
• Head of Group Internet Tech @ FU Berlin | Prof.Dr. Mathias Wählisch
• Co-Founder + Engineering @ Bunch.ai | Charles Ahmadzadeh
• Director of EduTech and Gaming @ FideliumTech | Jane Stoller
• Product Manager Smart Factory @ Körber Digital | Alexander Kinstler
• Project Manager Robotics/IoT @ Commerzbank Incubator | Dirk Plewnia
• Team Lead @ MBition Mercedes-Benz Inno Lab | Dr. Haytham Mohtasseb
• CEO + Co-Founder @ Giant Lazer | Jakub Korczynski
• Founder + Chairman @ XGS eSports | Johannes Neuschmid
• Partner @ TIGGES Lawyers | Marius Rosenberg
• Expert Advisor for Digital Transf. in Health Care | Miriam Schnürer
• Researcher Automation Robotics @ FU Berlin | Dr. Mostafa Mohammadi
• CEO + Founder @ E-Native + 1st VP @ ESBD | Niklas Timmermann
• Head of HTGF Berlin @ High-Tech Gründerfonds | Dr. Tanja Emmerling
• Head of IoT Business @ Bosch Software Innovations | Veronika Brandt
• CEO + Founder @ Desk.Works | Waldemar Ariel Gala
• CEO + C-Level Advisory Digitalization and IIoT @ DXBe | Wulf Schlachter
• Snr. Product Manager IoT Security @ T-Systems | Dr. Mehran Roshandel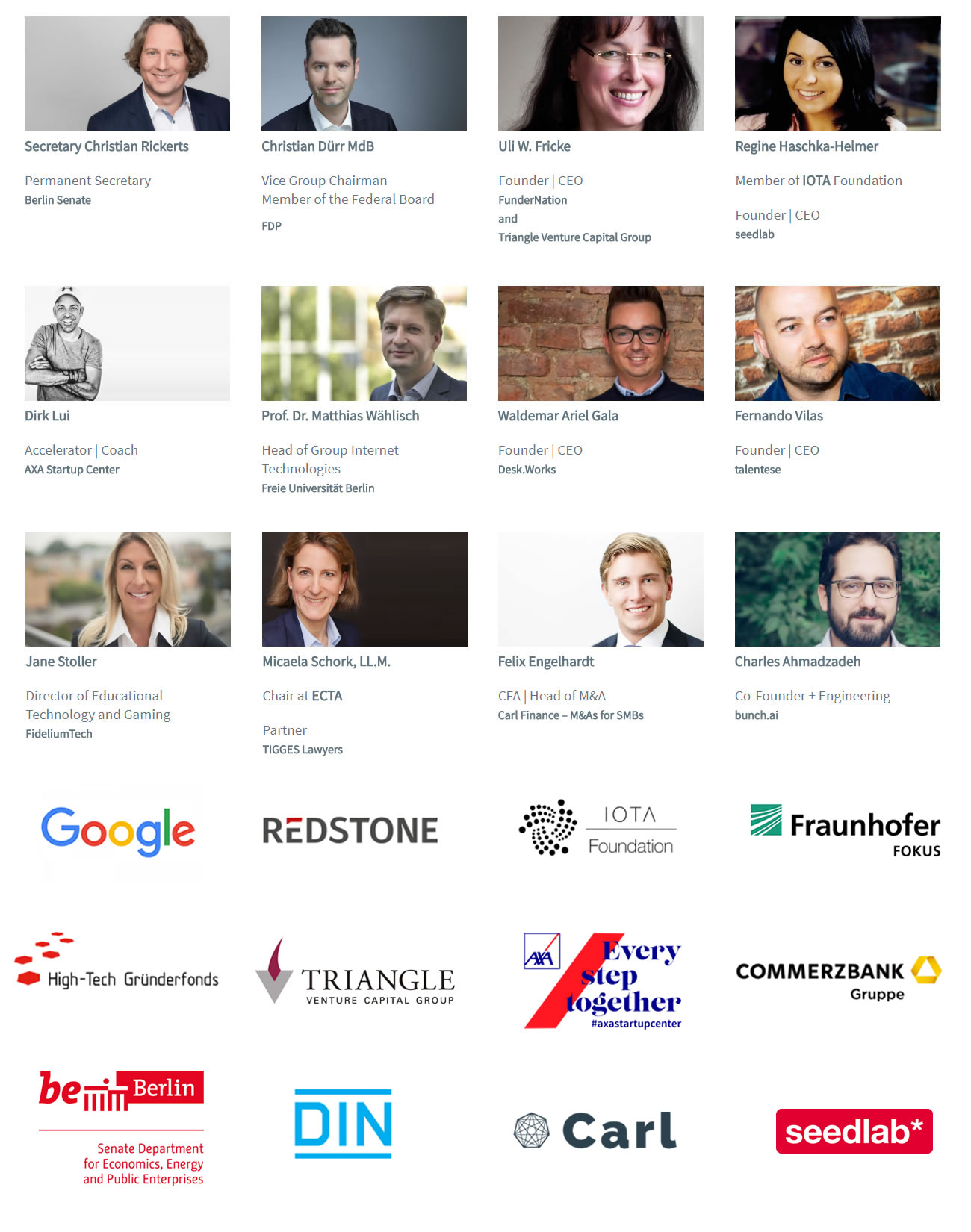 THE MEETUP OF INNOVATIONS
Alongside with other exciting IoT areas, you will be experiencing:
Smart Home

Smart Living

Smart Health

Smart Fashion

Smart Factory / Manufacturing

Smart Mobility

Smart City

Smart Buildings

Smart Grids

Smart Agriculture

Smart Retail

Smart Logistics

IoT Middleware / Plattformen

Robotics

Wearable Tech

In case of any questions, please feel free to send us an email: info@touchinginnovations.de