Dieses Event ist beendet.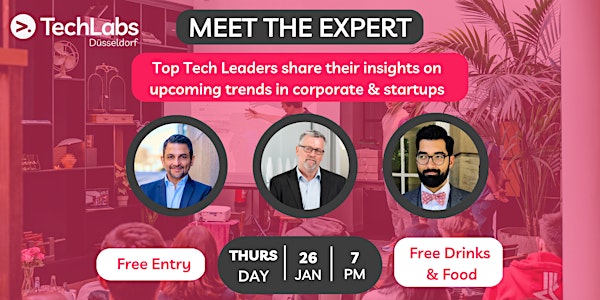 Top Tech Leaders share their insights on upcoming trends
Learn from top tech leaders about the latest trends in corporate & startups. Free drinks & food. Limited seats. Register now.
Zeit und Ort
Veranstaltungsort
Ruby Carl Workspaces Dusseldorf Breite Straße 27 40213 Düsseldorf Germany
Karte und Wegbeschreibung
Zu diesem Event
Join TechLabs Düsseldorf for an evening of inspiring talks from top tech leaders on the latest trends in corporate and startups. Our mission is to educate bring people together to discuss and learn about tech. This is why we invited some of the very well respected and experienced leaders in the tech industry. 🚀
This is a unique opportunity to hear talks from our speakers including Michael Lemke, Chief Security Officer of Huawei Germany, who will talk about tech challenges from the corporate side, Hamidreza Hosseini, CEO of ECODYNAMICS and lecturer at WHU, who will discuss Web 3.0, and Sumit Kumar, Founder of Parqet, who will share his experience of founding a startup as a side hustle.
After each talk, there will be dedicated time slots to discuss topics with the speakers and a networking break to interact with other participants. Register now for our limited seats for this live event at the beautiful Ruby Carl Workspaces in the heart of Düsseldorf. 🏙️
And the best part is that the drinks and food are on us. 🍻 Don't miss out on this amazing opportunity to learn from some of the best in the tech industry and network with like-minded individuals. 🤩
⏱ The Location will open at 18:45 and the event will start at 19:00. Each talk will be 15 minute long followed by a 15 minute Q&A and a 15 minute break. With a total of three talks the official part ends at about 9 pm. You are free to continue networking until the closing of the location at 10 pm. ✨