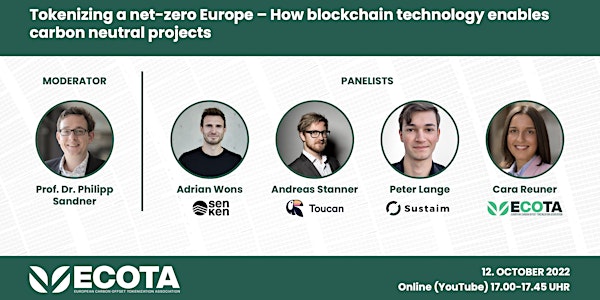 Tokenizing a net-zero Europe
Panel discussion hosted by FS Blockchain Center and ECOTA on "How blockchain technology enables carbon neutral projects"
About this event
The move towards a net-zero future has triggered new discussions on the role of carbon offsetting in achieving long-term decarbonization. Offsetting should be a complementary approach to a net-zero corporate strategy enabling carbon neutrality on a corporate level and facilitating the achievement of international climate targets.
For that, ensuring offsets' environmental integrity is crucial to their legitimacy in the transition to net-zero. Carbon credits should represent real, additional, verifiable, and permanent emission reductions or removals. In the past, it has become apparent that the voluntary carbon market (VCM) suffers from intransparency and market inefficiencies, preventing the market from unlocking its full potential.
Digital and blockchain innovations have accelerated rapid innovations in voluntary carbon markets. Amidst these developments, the tokenization of carbon credits has emerged on the front stage. With many new players pushing into the market, it becomes more challenging to steer the narrative while the industry faces increasing skepticism.
In this event, Prof. Dr. Philipp Sandner and the panelists will take you on a deep dive into why carbon offset tokenization is here to stay and why you and your organization should care about them. With experts from leading organizations in the carbon market industry, you will explore the untapped potential of tokenizing carbon credits, including a massive ESG opportunity for investors with equally regenerative impacts on our economies.
We will elaborate on questions such as:
What is the state of the current VCM and what role does it play towards decarbonization?
What are the different options to buy carbon credits?
What are the benefits of bringing carbon credits on the blockchain?
What are current obstacles in scaling the VCM as of today?
How can we solve these obstacles and scale the VCM?
How will the VCM evolve with blockchain technology?
You will also have the opportunity to ask questions directly to the panelists.
Panelists
Prof. Dr. Philipp Sandner, Head of the Frankfurt School Blockchain Center (moderator)
Andreas Stanner, Product Lead at Toucan
Peter Lange, Co-Founder at Sustaim
Adrian Wons, Co-Founder at Senken
Cara Reuner, Executive Director at ECOTA
Location and Date
Location: Online. Details for the live broadcast will be sent to you on the day of the event (no prior software installation is required).
Date: October 12th, 2022
Time: 17:00 - 17:45 (CEST)
Language: English
Agenda
17:00 - Welcome and introductory words (Prof. Dr. Philipp Sandner, Head of the Frankfurt School Blockchain Center)
17:05 - Introduction of the speakers (Prof. Dr. Philipp Sandner, Head of the Frankfurt School Blockchain Center)
17:10 - Start of the panel discussion: Tokenizing a net-zero Europe: How can blockchain technology enable carbon neutral projects?
17:45 - End of online panel
Tickets and registration
Required via Eventbrite; you will receive the URL for the live stream in advance.
Registration closes half an hour before the start of the event.
Who should participate?
Companies that would like to offset their emissions and would like to gain knowledge in the emerging use case of tokenized carbon credits
Companies and institutional or retail investors who want to understand why blockchain and tokenization will become a core part of the VCM and how use cases will evolve with blockchain technology
Employees and decision-makers from the financial and capital market industry interested in carbon markets and emerging opportunities associated with tokenized carbon credits
Other groups of people with interest in sustainability, voluntary carbon markets, crypto assets, technology, and digitization
Contact
European Carbon Offset Tokenization Association (ECOTA)
E-Mail: info@ecota.io
Web: www.ecota.io
About the Frankfurt School Blockchain Center
The Frankfurt School Blockchain Center (FSBC) is a think tank and research center primarily focusing on the implications of blockchain technology for companies and businesses. In addition to the development of blockchain prototypes, the center offers a platform for the exchange of knowledge and thought for decision-makers and startups as well as technology and industry experts. The FSBC sets new research impulses and develops education programs for students and executives. The center concentrates primarily on the areas of banking, energy, mobility, and the manufacturing industry.
About the European Carbon Offset Tokenization Association (ECOTA)
The European Carbon Offset Tokenization Association (ECOTA) is a think tank currently being formed by the Frankfurt School Blockchain Center that aims to overcome challenges in the field of technological enabled decarbonization to find token-based solutions for a faster route to a net-zero Europe.
Privacy policy: By registering for this event, I agree to receive emails from the Frankfurt School Blockchain Center about courses and events in the areas of blockchain, DLT, and crypto assets.