Dieses Event ist beendet.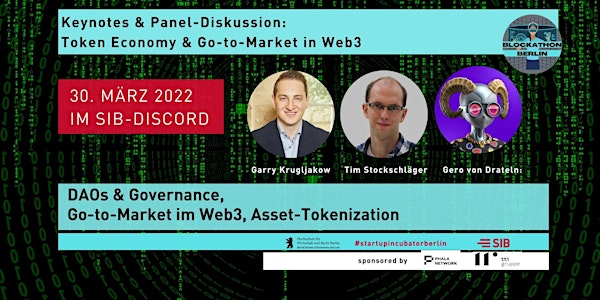 Token Economy & Go-to-Market in WEB 3.0 | Keynotes and Panel-Discussion
Web3 Entrepreneurs & Scientists share their insights about asset-tokenization, how to govern DAOs via tokens and go-to-market in the Web3,
Zu diesem Event
Short Description
Blockchain will tend to the financial landscape and enable an asset to be easily broken down into smaller units (tokens), representing ownership, encouraging the democratization of investment in historically illiquid assets and bring about fairer markets. Whether it be real-estate property, company shares, or collectibles, everything can be tokenized on a distributed ledger.
In this Event we want to clarify together with our experts what asset tokenization is and which are the most interesting use cases and business opportunities?
Our Speakers will also give you an overview how governance-tokens allow (startup-) employees to take company shares , how it is to work together in DAOs (decentral automous organizations) and what regulatory hurdles need to be overcome.
Experienced Web3 Entrepreneurs also share their insighs which Do's & Dont's you should consider for your go-to-market strategy in Web3.
Speaker
Tim Stockschläger: The co-author of "Security Token Crowdfunding" and research fellow at Blockchain Competence Center Mittweida will give you a fundamental overview about token-based crowdinvesting, asset tokenization and the brave world of token economics.
Garry Krugljakow: Garry is the advocate D-A-CH at Polygon, a secondary scaling solution for the Ethereum blockchain. As experienced serial entrepreneur he is co-founder of startups even in the Web3 and DeFi space. By first-hand Garry will share his insights about go-to-market in Web3 and how to govern DAOs via tokens.
Gero von Drateln: For more than 5 years Gero is invested in stocks, ETFs and cryptocurrencies and could gain a lot of experience during this time. Since this year, Gero shares his insights professionally as a Web3-consultant to make it easier for newcomers to learn about Web 3.0, NFTs and the Metaverse.
Participation
You can participate in this online event from the comfort of your home on your computer or tablet. All you need is a current browser, an Internet connection, and speakers or headphones.There is no need to install anything, but you will be asked to register for the Discord platform on your first visit. You will receive the access link for the webinar by email on the day before the event.
Further Info
To learn more about this event and our upcoming blockchain hackathon join our discord community!