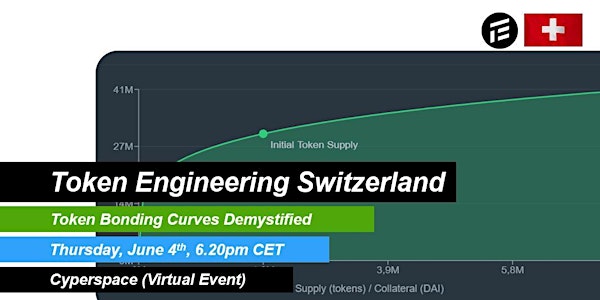 Token Bonding Curves Demystified: Introduction to Real-World Applications
Description
The first Token Engineering Switzerland event in February introduced Token Engineering as an emerging professional discipline around designing cryptoeconomic systems. This second event will explore one of the most well-known and widely-used cryptoeconomic building-blocks ("primitives"), Token Bonding Curves.
Since the conceptual idea behind what would later become known as a "Token Bonding Curve" (or just "Bonding Curve") was introduced in parallel by Simon de la Rouviere and the Bancor team in 2016, it has developed in exciting ways. While early Bonding Curve research focused mainly on group coordination mechanisms called "Token Curation Markets", the primitive has since been experimented with in the context of a large number of use cases, among them crowdfunding, automated market making / liquidity provision, and exchange protocols. Implementations have evolved from featuring static functions to highly dynamic mechanisms with large composability potential. The latest scientific research has generalized Bonding Curves to the well-known engineering notion of "configuration spaces", enabling the effective integration into sophisticated Web 3 applications, and the use of mathematical tookits habitually applied to solve engineering problems in robotics, aerospace, and other critical infrastructure domains.
This event will demystify Token Bonding Curves and provide both an easy introduction for everyone new to the topic, and deep-dives into actual applications (including some illustrative code), demonstrating why any Web 3 professional should be acquainted with the concept.
Register if you are considering using bonding curves, can contribute experience with Bonding Curves, or if you are just curious! We will send the dial-in link to all registered participants on the day of the event.
Token Engineering Switzerland is the Swiss chapter of the global Token Engineering movement. Our mission is to cultivate an awareness of the emerging professional discipline of Token Engineering in Switzerland and to connect academics, practitioners, and investors during local events.
-------------------------------------------------------------------------
Join Zoom Meeting
https://ethz.zoom.us/j/97940277916
Meeting ID: 979 4027 7916
-------------------------------------------------------------------------
Agenda:
6:20 pm: Welcome
Moritz Kaminski, Co-Organizer

Jonathan Gabler, BlockScience (Event Moderation)
6:30 pm: History and Intent of Token Bonding Curves

6:50 pm: Technical Introduction for Beginners

Benjamin Scholtz, Token Engineering Researcher
7:10 pm: Case Study I: Molecule Catalyst

Paul Kohlhaas, Founder, Linum Labs
7:30 pm: Design Archetype: "Augmented" Bonding Curves

Jeff Emmett, Token Engineering Researcher, Commons Stack
7:50 pm: Case Study II: The Commons Stack

Griff Green, Founder Commons Stack
8:10 pm: Design Archetype: Dynamic, Risk-adjusted Bonding Curves

Shruti Appiah, Research Scientist
8:30 pm: Case Study III: Alpha-Bonds

Dr. Shaun Conway, Founder IXO Foundation
8:50 pm: Token Bonding Curves in Scientific Research
Dr. Michael Zargham, BlockScience
9:10 pm: End of Event

-------------------------------------------------------------------------
Resources to help get familiar with the global Token Engineering movement include:
Twitter https://twitter.com/tokengineering
Videos https://www.youtube.com/c/TokenEngineering
Telegram https: https://t.me/TokenEngineering
cadCAD https://cadcad.org
Community Wiki www.tokenengineering.net