Dit evenement is afgelopen.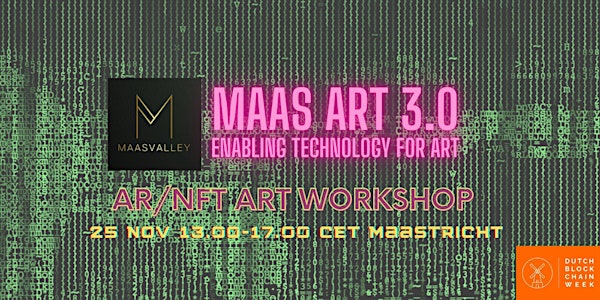 MAAS ART 3.0 Workshop - Create your first AR and NFT Art!
A unique opportunity to learn about Augmented Reality/NFT Art and practice to make your own ones guided by the experts!
Waar en wanneer
Locatie
Oxfordlaan 70 70 Oxfordlaan 6229 EV Maastricht Netherlands
Kaart en routebeschrijving
Beleid voor refunds
Neem contact op met de organisator om een restitutie aan te vragen.
Eventbrite-kosten zijn niet restitueerbaar.
Over dit evenement
Are you struggling with raising funds for your art projects? Heard about NFT but don't know where to start? Trying to make a breakthrough in your art career while lack of technical knowledge? Overwhelmed by all the information online and spent a lot of time trying to learn it all by yourself?
We believe that technology can enable new forms of creation and empower creators. If:
🎨 You create #artwork in physical form
📸 You are #fineart #photographer
👨‍🎤 You are #digitalartists using certain digital tools
🎢 You make #artinstallations
🎼 You are #musicians
🖌 You work in #creative and #cultural sector
Welcome to join the MAAS ART 3.0 AR/NFT Art workshop on 25 Nov in Maastricht! This is a unique opportunity for artists and art professionals to understand the possibilities that AR and NFT can bring to their art creation and funding process, and get hands-on instruction by experts on how to make your first AR/NFT art with real-time feedback!
We love learning by doing!
Program 25 Nov 2022:
12.45 Registration
13.00 MAAS ART 3.0 Introduction
13.10 Augmented Reality Art workshop
14.30 Break and networking
15.00 NFT Art workshop
16.30 Networking
17.00 Close of the program
*The whole session is in English
This program is initiated by MaasValley, a web3 ecosystem based in Maastricht with global vision. And it is part of the official Dutch Blockchain Week ecosystem event!
Program committee: Sunny Jiang, Predrag Koncar, Sera schniedermeier, Associate Professor Dr. Burak Can
Contact: maasvalley@gmail.com