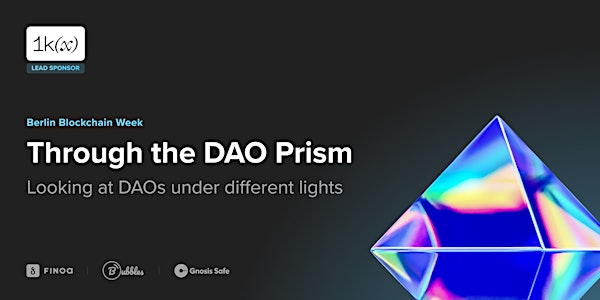 Through the DAO Prism: Looking at DAOs under different lights
Join 1kx, Finoa, Safe, and Bubbles for an afternoon dedicated to DAOs and mingle with other industry experts.
When and where
Location
Finoa GmbH Saarbrücker Strasse 36-38 10405 Berlin Germany
About this event
An afternoon gathering for DAO contributors, researchers, and participants to learn and share best practices around uses cases, legal challenges, governance, and more. DAO experts will participate in three panels, followed by a get-together and cocktail hour.
We encourage anyone involved with a DAO(s) to apply to the waitlist. Once accepted, you will receive an email confirmation with your ticket and full event details.
See you there!
Agenda
Welcome
Fireside chat Speakers: Christoph Simmchen (Safe), Daniel Resas (Bubbles) Moderator: Dr. Andreas Dittrich (Finoa Consensus Services, Moderator).
Panels
How DAO you do 🗣 Exploring DAO use cases and the future of decentralized organizations. Speakers: Niklas Rindtorff (LabDAO), Andreas Vogel (Legacy), Stani Kulechov (Aave) Moderator: Dr. Andreas Dittrich (Finoa Consensus Services)
Navigating murky legal waters 🌊 Approaching legal uncertainty and mitigating risk. Speakers: Nina Siedler (MHL), Christoph Simmchen (Safe), Daniel Resas - Bubbles Moderator: Aurelia Nick (MME)
How to Govern ⚖️ Setting up DAOs for efficient and transparent decision making. Speakers: Theodor Beutel (VitaDAO), Terry Chung (1kx), Jordan Sutcliffe (Stakewise DAO) Moderator: Eylon Aviv (Collider VC)
The DAO Toolstack 🧰 Helping you make sense of how to operate a DAO and what's coming next. Speakers: Reka Macy (Guild.xyz), Dr. Martin Rieke (Finoa), Abbey Titcomb (Radicle), Michael Carter (WorkDAO) Moderator: John Ennis (Safe)
Drinks and mingling
Sponsors and organizers
1kx is an early-stage crypto fund helping founders bootstrap token networks. With investments in many critical web3 projects, including leading the recent investment round in Safe, 1kx is a thoughtful and active participant in the DAO ecosystem.
Finoa is a regulated crypto-asset platform that supports institutional investors with digital asset custody and staking services and offers seamless access to the DeFi ecosystem.
Bubbles provides the best experience for collectors to keep up with their favorite NFT projects and communities by aggregating and structuring all relevant updates. Our vision is to build a comprehensive community and investor relations platform for NFTs and other Web3 projects.
Safe is the most trusted platform to manage digital assets and secures >$40 Billion in assets today. With its flagship web and mobile interfaces and expanding ecosystem, Safe is on a mission to unlock digital ownership for everyone in web3 including DAOs, enterprises, retail or institutional users by establishing a universal standard for custody of digital assets, data and identity with smart contract-based accounts.