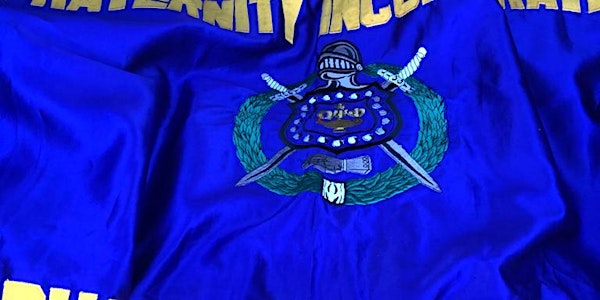 Theta Rho 60th Anniversary
Theta Rho Chapter of Omega Psi Phi Fraternity Incorporated 60th Anniversary Gala and Celebration
By Theta Rho Chapter of Omega Psi Phi Fraternity Inc.
Date and time
April 22 · 6pm - April 23 · 12am CEST
Location
Stuttgart Marriott Hotel Sindelfingen Mahdentalstraße 68 71065 Sindelfingen Germany
Refund Policy
Contact the organizer to request a refund.
About this event
In remembrance of Brother Gregory Lewis. Gamma Beta Chapter 1971
"Welcome
On behalf of the Basileus, Officers and Brothers of the "The Home of the European Ques" Theta Rho Chapter (The Mother Pearl of Europe) established 1962 in Germany, would like to take this opportunity to extend an invitation for you to join us as we celebrate our 60th Charter Anniversary weekend in Stuttgart, Germany. We look forward to welcoming you to experience the warm hospitality of the first Chapter to be chartered in beautiful (Deutschland) aka Germany in the city of Frankfurt. Our extravaganza celebration will take place over the weekend, 20 – 23 April 2023. We appreciate you taking the time out of your schedule to join us as we honor the work being done by the brothers in Germany and across the European Theater.
Useful Information"
"Airport of Arrival/Departure: Stuttgart International Airport (STR)"
"Airport Transfers: Once your flight is confirmed, please forward your
flight details to the Committee Chairman. Transportation will be provided to/from the airport. Send details to: sterling204@gmail.com"
"Currency: The official currency is the EURO at an exchange rate of
€1 = USD$1.08 (as of 13 Feb 2023)
You can opt to use your foreign credit cards but be advised that you may incur foreign exchange charges from your US bank."
"Weather: Weather conditions in mid-April are cool and comfortable.
Historically, Germany gets around five hours of sunshine in the
spring and it's worth bringing your sunglasses."
"Average temperature – April 20 / 55.4F Record temperature – 70° / 37.4° F Average rainfall – 1.5 inches"
"Telephone/Internet: Be sure to inform you US cellular service provider that you
will be out of the country. They may offer international service for your cellular plan. Additionally, WiFi is easily accessible in
the city."
"€80/$84"
"Cost of Banquet Ticket: To secure your ticket, visit: 60th Anniversary Ticket"
"Accommodations/Room Bookings
To confirm your room at the Stuttgart Marriott Hotel Sindelfingen, see the central reservation link: Marriot Reservation
Provide Central Reservation with your credit card details to secure the booking.
Alternatively, guests can call the Stuttgart Marriott Hotel Sindelfingen reservations team directly: +49 7031 6960
RB: THIS ROOM ALLOCATION WILL BE AVAILABLE UNTIL MARCH 15th, 2023."
"COVID-19 Guidelines for Germany
Still current at: 23 February 2023
Updated: 06 February 2023
Latest update: There are no COVID-19 related restrictions for entry to Germany, except if you are traveling from China (See Travel)
If you are fully vaccinated/If you are not fully vaccinated:
You do not need to take any COVID-19 travel tests before you travel to Germany or after you arrive.
COVID-19 Germany Updated: 06 February 2023
Source: https://www.smartraveller.gov.au/destinations/europe/germany"
"Theta Rho Chapter
OMEGA PSI PHI FRAERNITY, INC.
Stuttgart, Germany
60th Charter Anniversary Weekend Itinerary"
"Thursday 20th April, 2023
Arrival of IHQ & VIP Party (TBD)
Arrival of visiting Brothers & Guests (TBD)
Welcome Reception at Stuttgart Marriott Sindelfingen 7:00pm
Friday 21st April, 2023
Breakfast at Stuttgart Marriott Sindelfingen 7:00am Social Action Projects
~STEM Donation - Stuttgart High and Patch Middle School 9:00am
~Book Donation - Stuttgart Elementary School 10:00am
Lunch (on your own) 12:00pm
Personal Time 2:00pm
Member Initiation Ceremony (Omega Dress) 7:00pm
Saturday 22nd April, 2023
Breakfast at Stuttgart Marriott Sindelfingen 7:00am Depart hotel for train station to the Stuttgart Springfest (Family Friendly) 10:00am Quette's Personal Time/Shopping at Breuninger Land-Sindelfingen 10:00am Lunch (included with Spring Festival ticket) 12:00pm
Depart Spring Festival for train station/return to hotel 2:00pm Charter Anniversary Banquet at Stuttgart Marriott Sindelfingen
~Social Hour 6:00pm
~Dinner Program 7:00pm
Sunday 23rd April, 2023
Departure of IHQ & VIP Party (TBD)
Departure of visiting Brothers & Guests (TBD)"
"Contacts"
"The following Brothers are available to assist before or during your visit to the Germany:"
"Brother Terry Sterling (Basileus)" "+1(904)572-9317" "sterling204@gmail.com"
"Brother Jonathon Williams (Vice Basileus)" 393485810124 "Jonathon.williams175@gmail.com"
"Brother Robert Bragg (Chaplain)" 4915203589593 "bobbybragg6@gmail.com"
"Brother Allen Archie (Planning Committee)" 491726620199 "allen.j.archie@yahoo.com"
"Brother Antione Reed (13th District SA Chair)" 4916092305039 "reedar1@hotmail.com"
"Brother Darryle Albert (13th District FVDR)" "+1(803)552-7915" "thoroughdarryle93@gmail.com"
"*All numbers are accessible via WhatsApp"