Description
From sensors to robot assisted surgery, modern hardware devices are enabling a whole range of new products, services and business models in the healthcare sector. Empowering patients and assisting medical professionals, new technologies are not only extending our lives but also improving the quality of it.
The lowering costs and wider access to technology are opening new opportunities for innovation in a €7 trillion industry globally, moving from an impersonal and standardized service to a personalized and patient-centred approach to medicine.
Get a glimpse of what is coming in an afternoon of thought-provoking conversations. Understand the future of the healthcare industry and how you can leverage these opportunities.
Confirmed Speakers:
Jens Grudno, CEO, AssistMe
Christian Rebernik, CEO, Vivy
Dr. Nana Bit Avragim, Mentor & Advisor, EIT Health
Miriam Schnuerer, Head of Healthcare Consulting, BWI GmbH
Christian Dierks, Managing Partner, Dierks +Company
Moderator:

Regina Vetters

, Head of Digital and Innovation, Barmer
––––

"The World in 2030" is Next Big Thing's forward-thinking event series focused on the future of businesses and services. Throughout each event, we will host thought provoking conversations with selected speakers and panelists, push innovation, and build a variety of ideas for the future.

Join us on this journey into what's coming, upcoming opportunities, and your role within this.

Follow Next Big Thing:

- Twitter: https://twitter.com/nbt_ag
- Linkedin: https://www.linkedin.com/company/next-big-thing-ag
- Facebook: https://www.facebook.com/NextBigThingAG/
- YouTube: http://bit.ly/NBT_YT
- Medium: https://medium.com/nbt-thing-tank
Sponsored by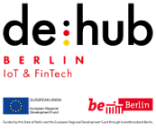 Organizer of The World in 2030: Future Services in Healthcare
Next Big Thing AG (NBT) is the leading venture studio and early-stage investment company in the Machine Economy. We combine technical understanding, innovative leadership, and determination to reimagine the future in ways that empower a more prosperous, sustainable, and democratized world.