Eventinformationen
Veranstaltungsort
WeWork
Taunusanlage 8
60329 Frankfurt am Main
The Wheel of Progress is one of the most advanced tools for capturing and visualizing "customer jobs".
Zu diesem Event
Join this interactive and inspiring two-day Wheel of Progress Masterclass to learn how to apply the Jobs to Be Done (JTBD) theory by using one of the most innovative ways in defining the jobs-to-be-done of customers. Apply this new needs discovery practice to your innovation, product development, and marketing efforts. Dramatically increase the relevancy of your company's offerings.
Why should I join?
You will learn how to systematically identify the conditions under which people switch longlastingly to a new product or service. These insights are essential when updrading an existing product, developing a new product, or better market, sell and provide services for existing products.
JTBD covers all aspects that are causal to "hiring" a new solution. After the workshop you will be able to discover the most valuable customer jobs in existing and new markets and take advantage of being the most knowledgeable person about customer needs.
You will be equipped with the foundational knowledge, the tools and acquire the skills necessary to start right away.
Check out these examples The Wheel of Progress examples at http://wheelofprogress.com/examples/
What tools will I learn?
As the foundation, we will use The Wheel of Progress, an all-in-one customer jobs "canvas" that helps you to portrait all necessary elements of a customer job and summarize a customer job in a Desire for Progress Statement.
For learning and practicing how to interview customers, you will receive a copy of the JTBD card set, developed by Jonathan Briggs.
Agenda
Day 1 (9-17 h):
Module 1
Welcome and warm-up
Foundation
Introduction of The Wheel of Progress
Module 2
Leading JTBD interviews
Process, tools & techniques
Interviewing exercise
Module 3
Practicing interviews
Observing live customer interviews
Practicing interviews
Module 4
Analyzing customer interviews
Evaluating interviews part I
Conclusion of day
Day 2 (9 - 16 h)
Module 1
Evaluating interviews part II
The Statement of Desired Progress
Aggregating interviews and evaluating the job portfolio
Module 2
Transferring results into the Value Proposition and Business Model Canvas
How to use data for product management
How to use data for sales, marketing and service
Module 3
Scoping and developing interviewee profiles
Screening and selecting interviewees
Incenting best practices
Module 4
Project setup, workshop design and organizing interview sprints
A best practices framework for driving the customer jobs creation process
Conclusion of day
What's included in the price?
2 days of intense hands-on workshop
Toolkit (handbook, copy of The Wheel of Progress, Statty Notes, JTBD interview card set, training cards.)
all meals and beverages
certificate of attendance
Language of instruction will be English and workshop materials will be availlable in English or German
Pre-requisites
Basic understanding of the Jobs to Be Done theory
Conversational English skills
Who should participate?
People involved in product/service definition, management and marketing: Chief Innovation Officer, Product Manager, Market Research experts, UX designers, Product Marketers, etc.
Who are the instructors?
Eckhart Boehme is one of the most experienced Jobs to Be Done practitioners and facilitators in Germany. He developed and delivered the first German language open workshop in 2017 and since then trained hundreds of participants from start-ups to enterprises, led several jobs to be done research projects and coached practitioners. He co-developed The Wheel of Progress that integrates all aspects of the Jobs to Be Done theory.
Peter Rochel is the owner of Oberwasser Consulting, a boutique management consultancy, specialized in excellence analysis and helping organizations to align their transformation with customer needs. Peter and Eckhart co-developed the Wheel of Progress, a tool for creating innovations based on customer insights. Peter has been working based the jobs to be done theory since 2006 and has been active as one of the most experienced practitioners in Western Europe.
Disclaimer
The maximum number of attendees is 10. Reservation is on a first come, first serve basis. We reserve the right to cancel the workshop and refund the ticket fees due to an insufficient number of registered participants.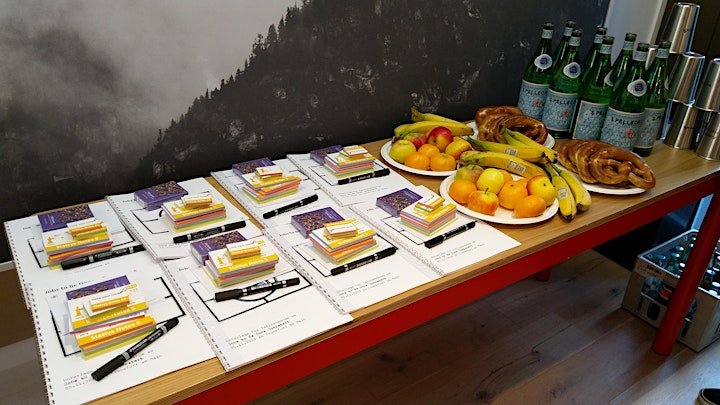 Datum und Uhrzeit
Veranstaltungsort
WeWork
Taunusanlage 8
60329 Frankfurt am Main