About this Event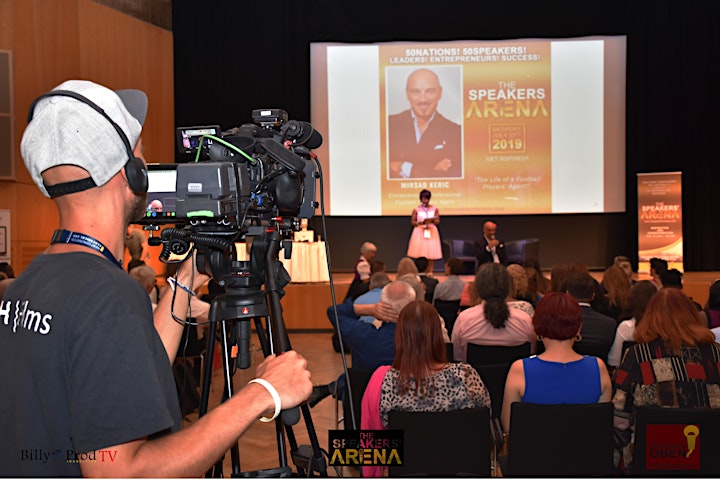 Welcome to THE SPEAKERS' ARENA!
For the 2nd time in Germany we are bringing together 50 Nations on One Big Stage; and an incredible international audience!!! Be There! GET EARLY BIRD TICKETS HERE!
Join us on this wonderful day in Nuremberg! Listen to remarkable Speakers with excellent topics on inspiration, transformation, success, and entrepreneurship. Just like last year, come get lots of partnerships, joint ventures and seal 5-digit deals! Come learn and be inspired and motivated to make YOUR dreams come true! What a great feeling being with the most amazing International Speakers from 50 NATIONS in one location; all sharing their message to make a positive impact in this world!
Amazing networking! Connecting people from all over the globe to exchange and connect on this one of a kind platform! Do not miss out on this unique opportunity this year in Germany; coz if you want to come next year, then you'll have to fly to Atlanta, Georgia 2021! :-)
Success, Leadership and Global Entrepreneurship; this is exactly what we are bringing together at the Meistersingerhalle in Nuremberg/ Germany on the 27th of June 2020! We want you to fuel up at this incredible event and make you unleash the extraordinary power you have inside of YOU; to share YOUR message with the WORLD! Where else would you find 50 Nations at one spot?!
Come join us at THE SPEAKERS' ARENA on June 27th 2020 at the Meistersingerhalle in Nuremberg, Germany and see you again at the CNN CENTER in Atlanta, Georgia USA2021 next year!
WE BRING THE WORLD TOGETHER!We, pride ourselves with an epic guestlist of International Speakers, CEOs, Entrepreneurs,Politicians, Decision Makers, Stars, Journalists, Visionaries and many more from 50 Nations!See YOU there … YOU DO NOT WANT TO MISS THIS! GET EARLY BIRD TICKETS HERE!
Email: info@thespeakersarena.com / www.thespeakersarena.com