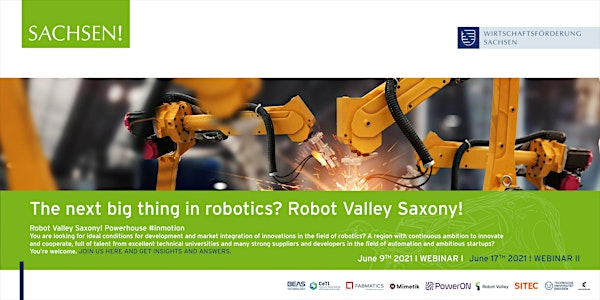 The next big thing in Robotics? Robot Valley Saxony! Webinar 1/2
Webinar
Date and time
Wednesday, June 9, 2021 · 7 - 9am PDT
About this event
Robot Valley Saxony! Powerhouse #inmotion
You are looking for ideal conditions for development and market integration of innovations in the field of robotics? A region with continuous ambition to innovate and cooperate, full of talent from excellent technical universities and many strong suppliers and developers in the field of automation and ambitious startups?
You're welcome. JOIN US HERE AND GET INSIGHTS AND ANSWERS.
The Event Lineup:
FABMATICS GMBH … automates semiconductor factories using mobile, rail-guided and stationary robotic systems. They are experts in the automation of material flows and handling processes in clean high-tech environments making production logistics safer, faster and more efficient.
TU DRESDEN I PROF. STEFFEN IHLENFELDT
Professor for tooling machines and adaptive control systems at TU Dresden as well as research director of CyberphysicalProduction Systems at Fraunhofer IWU, where he is paving the way for an IoT based production.
POWERON GMBH… is developing "artificial muscles" to give robotic grippers the sense of touch for lifelike interactions. This unique dielectric elastomer switch technology is used to produce customisable, soft and flexible switches, actuators and logic.
FUSION SYSTEMS GMBH ... is a specialist in the detection and localization of objects via image processing and sensor technology. Fusion Systems's products and services help you enhance product quality, safety and productivity by using the latest sensor and automation technologies.