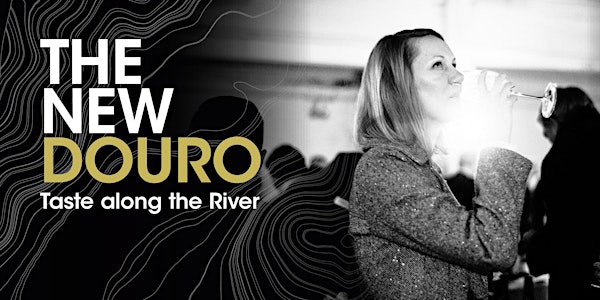 THE NEW DOURO 2017
When and where
Location
The Vinyl Factory Soho at Phonica Records 51 Poland St London W1F 7LZ United Kingdom
Description
WHAT IS THE NEW DOURO?
Expect a tasting show with the best producers and young creatives from Oporto and of the vibrant Douro valley.
A tribute to the blossoming Portuguese wine and culinary scene.
CONCEPT

Tasting fine wines from 24 of the Douro's most exciting wineries, offering over 130 white, red and Port wines
Portuguese tapas (Petiscos)
Experiencing Portuguese design and crafts
DJs playing from Fado to Bossa Nova
Insider travel information and tips for Oporto and the Douro valley
THE MOST EXCITING PRODUCERS FROM THE DOURO VALLEY
Casa Ferreirinha (Sogrape Vinhos) / Chryseia (Quinta de Roriz- Prats & Symington) / Duas Quintas (Ramos Pinto - Port & Douro Wine) / Duorum / Niepoort / Nova Quinta do Sagrado / Poeira / Quinta da Boavista& Quinta das Tecedeiras / Quinta da Gaivosa(Alves de Sousa) / Quinta de São José / Quinta do Crasto / Quinta do Passadouro / Quinta do Pessegueiro / Quinta do Vallado / Esporão Quinta dos Murcas / Quinta Nova / Quinta Vale D. Maria / Quinta do Vale Meão / Real Companhia Velha, Porto / Sogevinus / Symington Family Estates / Vertice / Wine & Soul
THE VENUE
The Vinyl Factory Soho
at Phonica Records,
51 Poland St, London W1F 7LZ
Underground: Oxford Circus and Piccadilly Circus
THE DATE
Monday, 6th of November
5 pm till 9 pm
AN INVITATION TO ENJOY DOURO FINE WINES, PORTUGUESE FOOD, DESIGN AND TRAVEL?
YES, we want you to venture along the 'Douro river' to sample a variety of more than 130 fine wines (including Ports), Portuguese tapas and food artisans, designers displaying their contemporary Portuguese artwork and DJs playing the sound of wine.
WHAT'S INCLUDED IN MY £30 TICKET?

Entry to the event
Unlimited sampling of the wines of 25 exciting wine producers from the Douro, offering a total of over 130 white, red and Port wines
Free tasting of fabulous extra virgin olive oils from the Douro region
Portuguese Petiscos (small tapas)
Learning more about the travel destinations of the Douro valley and Oporto
GROUP TICKET:
Group ticket for £110: * Get 4 tickets and save £10!
TRADE ONLY SESSION
There will be a trade and press session during the day from 11.30 am – 4 pm. This is by invitation only, so please feel free to get in touch if you are interested in attending: hello@thenewdouro.pt
ENTRANCE POLICY
As you might have guessed, this is an event for those who are of legal drinking age, so please bring ID with you if you are in the enviable position of looking young for your age.
GET IN TOUCH
If you have any questions or would like to get in touch, send us an email at hello@thenewdouro.pt or DM us @thenewdouro
More details: Please follow our social media channels (Facebook, Instagram, Twitter) to get more insider information on the exhibitors. They will also be featured on our website: thenewdouro.pt