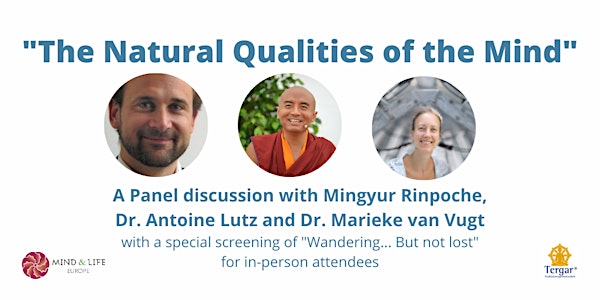 The Natural Qualities of the Mind + Screening "Wandering... But not lost"
A joint event of Tergar Meditation Community and Mind & Life Europe. Including the screening of the documentary "Wandering... But not Lost".
When and where
Location
Germanisches Nationalmuseum Kartäusergasse 1 90402 Nürnberg Germany
About this event
[German version below]
What are the natural qualities of mind? How can we study them from both the third- and first-person perspectives? What do the Eastern and Western traditions have in common (or not) when it comes to the cultivation of a healthy mind? How can these two traditions interface with each other in light of the most recent advances in the study of the human mind?
In this evening of dialogue, we'll take a cross-sectional look at the natural qualities of the human mind, reaping insights from Western neuroscience and the age-old wisdom of Buddhist thought and practice.
Mingyur Rinpoche, known throughout the world as a clear and charismatic Tibetan Buddhist teacher, has long been interested in Western science and psychology. In this unique encounter, he will co-investigate the natural qualities of mind with two prominent European scientists who specialize in the neuropsychology of meditation practice.
Dr. Antoine Lutz, who was trained by Dr. Francisco Varela and worked extensively with Dr. Richard Davidson, has been a pioneer in Europe for his work on the neurophenomenology of mindfulness and compassion meditations.
Dr. Marieke van Vugt will offer key insights from her own body of work on mind-wandering and the cognitive processes underpinning meditation and mindfulness.
The talk will be in English, translation into German will be provided. The panel discussion will be moderated by HolgerYeshe.
__
Following the panel discussion we will show the film "Wandering... But not lost" in the presence of the filmmaker Paul MacGowan.
The film is a personal account of Mingyur Rinpoche's four and a half year retreat, interspersed with Rinpoche's own guidance on applying Buddhist wisdom to our daily modern lives, which will touch and inspire audiences everywhere. Info about the film HERE.
__
Schedule:
18:00 - 20:00 Panel discussion The Natural Qualities of Mind
20:00 - 20:30 Break
20:30 - 22:00 Film screening "Wandering... But not lost" with director Paul MacGowan in attendance (no streaming for online attendees)
Your donation:
Tergar is a non-profit organisation committed to making the benefits of meditation available to everyone. As the cost of putting on these events is currently higher than ever however, we would like to invite those of you who are able to pay the sponsorship rate to please consider doing so.
Filmmaker Paul McGowan is making the film available free of charge. To support Paul's work on his film projects, there will be an opportunity to register and make donations on site. We will pass on 100% of the donations.
Thank you very much. Your generosity is greatly appreciated.
COVID-19 Guidelines:
Please bring an FFP2-mask to the event.
We recommend to use a medical mask to cover nose and mouth throughout the entire event.
Please only participate at this event if you feel healthy and you have no signs of COVID or symptoms similar to a flu.
Please do not participate at the event in case you had contact with a COVID infected person within the past three days.
Should the exposure be more than three days in the past, please conduct a self-test or get tested in an official test center. Please do only participate if the test result is negative.
In case you were recently ill, please ensure before your arrival that a COVID test is negative.
In case you feel symptoms during the event, please isolate yourself immediately.
Thank you for your cooperation.
Travel, Accommodation, and Other Local Information:
Please review this document for local travel and accommodation information. This is a non-residential retreat. You will need to secure your own accommodation if you need it and purchase your own meals.
If you have questions about the location, transportation and accommodations or need special seating or have other requirements, please contact anmeldung@tergar.org.
__
Biographies:
Yongey Mingyur Rinpoche is one of the outstanding meditation teachers of our time. Born in Nepal in 1975, he became one of the youngest Tibetan meditation masters at the age of 17. His childhood encounter with the biologist and consciousness researcher Francisco Varela sparked his interest in brain research and neuroscience. He overcame his own severe anxiety disorder through meditation techniques. During neurological measurements of his brain activity at the Waisman Institute for Brain Research at the University of Wisconsin-Madison, he achieved unprecedented values and was subsequently christened the "Happiest Man on Earth".
—
Dr. Marieke van Vugt is an assistant professor at the Bernoulli Institute of Mathematics, Computer Science and Artificial Intelligence of the University of Groningen (Netherlands). Her research aims to understand how, when, and why we mind-wander. She is also fascinated by how this mind-wandering process is adaptive--as in the case of creativity--and when it becomes maladaptive, as is the case for depressive rumination.
—
Dr. Antoine Lutz is a director of research at the French Medical Research Institute (INSERM) in the Lyon Neuroscience Research Center (CNRL). Since 1998, he has studied meditation with various teachers including Mingyur Rinpoche, Tsoknyi Rinpoche, Matthieu Ricard and Joseph Goldstein. He is also currently collaborating to a European research consortium investigating the impacts of meditation practices on ageing and well-being as measured by brain imaging, biomarkers of ageing, and psycho-affective and cognitive behavioural measures. He recently started a collaboration investigating the neurocomputational principles of meditation (ANR MindMadeClear, coordinated by Hugues Mounier, CNRS).
__
HolgerYeshe, born in Nuremberg, has been meditating for 20 years and has been a student of Mingyur Rinpoche since 2005. In 2010, he ordained as a monk and has been intensively studying the Tibetan language and Buddhist philosophy ever since. He is also interested in the social challenges of our time.
__
For more information about Tergar Meditation Community click HERE. You can find more information about Mind & Life Europe HERE.
__
A livestream of the panel discussion will be available on Mind & Life Europe's YouTube Channel.

Präsenz | Podiumsdiskussion "Die Natürlichen Qualitäten des Geistes" mit Mingyur Rinpoche + Filmvorführung "Wandering... But not lost"
Eine gemeinsame Veranstaltung von Tergar e.V. und Mind & Life Europe. Mit Vorführung des Dokumentarfilms "Wandering... But not lost".
__
Was sind die natürlichen Eigenschaften des Geistes? Wie können wir sie sowohl aus der Perspektive der dritten als auch der ersten Person studieren? Was haben die östliche und die westliche Tradition gemeinsam (oder auch nicht), wenn es um die Kultivierung eines gesunden Geistes geht? Wie können diese beiden Traditionen im Lichte der jüngsten Fortschritte bei der Erforschung des menschlichen Geistes miteinander verbunden werden?
An diesem Abend werden wir im Dialog einen Querschnitt der natürlichen Qualitäten des menschlichen Geistes betrachten und dabei Erkenntnisse aus der westlichen Neurowissenschaft und die uralte Weisheit des buddhistischen Denkens und Praktizierens nutzen.
Mingyur Rinpoche, der in der ganzen Welt als klarer und charismatischer tibetisch-buddhistischer Lehrer bekannt ist, interessiert sich seit langem für westliche Wissenschaft und Psychologie. Bei dieser einzigartigen Begegnung wird er gemeinsam mit zwei prominenten europäischen Wissenschaftlern, die sich auf die Neuropsychologie der Meditationspraxis spezialisiert haben, die natürlichen Qualitäten des Geistes erforschen.
Dr. Antoine Lutz, der von Dr. Francisco Varela ausgebildet wurde und intensiv mit Dr. Richard Davidson zusammengearbeitet hat, ist in Europa ein Pionier auf dem Gebiet der Neurophänomenologie der Achtsamkeits- und Mitgefühlsmeditationen.
Dr. Marieke van Vugt wird wichtige Erkenntnisse aus ihrer eigenen Arbeit über das Wandern des Geistes und die kognitiven Prozesse, die Meditation und Achtsamkeit zugrunde liegen, vorstellen.
Das Gespräch findet auf Englisch statt, Übersetzung ins Deutsche wird angeboten. Die Podiumsdisskusion wird moderiert von HolgerYeshe.
__
Im Anschluss an die Podiumsdiskussion zeigen wir für alle Besucher*innen vor Ort den Film "Wandering… But not lost" (engl. mit deutschen Untertiteln) in Anwesenheit des Filmemachers Paul MacGowan.
Der Film ist ein persönlicher Bericht über Mingyur Rinpoches viereinhalbjähriges Retreat.Rinpoche wird uns in Kommentaren Anleitungen geben, wie wirbuddhistischeWeisheiten inunser tägliches, modernes Leben integrieren können. Eine Inspiration für alle die den Film sehen! Mehr Infos zum Film HIER.
__
Ablauf der Vor-Ort-Veranstaltung:
18:00 - 20:00 Podiumsdiskussion Die natürlichen Qualitäten des Geistes
20:00 - 20:30 Pause
20:30 - 22:00 Filmvorführung "Wandering… But not lost" in Anwesenheit des Regisseurs Paul MacGowan (kein Streaming für Online-Zuschauer)
Deine Spende:
Tergar ist ein gemeinnütziger Verein, dessen Grundsatz es ist, allen Menschen zu ermöglichen, den Nutzen von Meditation zu erfahren. Da die Kosten für die Durchführung dieser Veranstaltungen höher sind als je zuvor, möchten wir diejenigen, die in der Lage sind, den Sponsorentarif zu zahlen, bitten, dieses in Betracht zu ziehen.
Der Filmemacher Paul McGowan stellt seinen Film "Wanderin... But not lost" kostenlos zur Verfügung. Um Pauls Arbeit an seinen Filmprojekten zu unterstützen, besteht die Möglichkeit sich als Förderer zu registrieren und vor Ort zu spenden. Diese Spenden geben wir zu 100% Prozent weiter.
Danke, und wir wissen deine Großzügigkeit sehr zu schätzen!
COVID-19 Richtlinie:
Bitte bringe zur Veranstaltung eine FFP2-Maske mit.
Wir empfehlen das durchgängige Tragen einer medizinischen Mund-Nasen-Bedeckung.
Bitte achte darauf nur an der Veranstaltung teilzunehmen, wenn du dich gesund fühlst und keine COVID- oder grippeähnlichen Symptome hast.
Bitte nimm nicht an der Veranstaltung teil, wenn du in den letzten 3 Tagen Kontakt zu einer mit COVID infizierten Person hattest.
Liegt der Kontakt länger als 3 Tage zurück, teste dich bitte selbst oder lass einen offiziellen Schnelltest durchführen, und nimm nur dann an der Veranstaltung teil, wenn das Ergebnis negativ ist.
Wenn du in letzter Zeit krank warst, vergewissere dich bitte vor der Anreise, dass dein COVID-Test negativ ist.
Solltest du während der Veranstaltung Symptome entwickeln, isoliere dich bitte umgehend.
Wir danken dir für deine Mitarbeit.
Anreise, Unterkunft und andere Vor-Ort Informationen:
Bitte lies dieses Dokument, es beinhaltet Informationen zu Anreise, Unterkunft, Verpflegung, Kleidung etc. Dies ist ein sog. Non-residential Retreat, das heißt, du musst dich selbst um Unterkunft (falls nötig) und Verpflegung kümmern.
Wenn du Fragen zu Veranstaltungsort, Verkehrsmitteln und Unterkunft hast, eine Sitzmöglichkeit mit besonderem Bedarf benötigst oder andere Anliegen hast, melde dich bitte unter anmeldung@tergar.org.
__
Biographien:
Yongey Mingyur Rinpoche, geboren 1975, zählt zu den herausragenden Meditationslehrern unserer Zeit. Mit 17 Jahren wurde er einer der jüngsten tibetischen Meditationsmeister. Die Begegnung in Kindheitsjahren mit dem Biologen und Bewusstseinsforscher Francisco Varela entfachte sein Interesse an Hirnforschung und Neurowissenschaften. Eine eigene schwere Angststörung überwand er durch Meditationstechnik. Bei neurologischen Messungen seiner Gehirnaktivität am Waisman Institut für Hirnforschung an der Universität von Wisconsin-Madison erreichte er bislang nie gekannte Werte und wurde daraufhin zum "Happiest Man on Earth" getauft.
__
Dr. Marieke van Vugt ist Assistenzprofessorin am Bernoulli-Institut für Mathematik, Informatik und künstliche Intelligenz an der Universität Groningen (Niederlande). Ihre Forschung zielt darauf ab, zu verstehen, wie, wann und warum wir gedanklich wandern. Sie ist auch fasziniert davon, wie dieser Prozess der Gedankenwanderung adaptiv ist - wie im Fall der Kreativität - und wann er maladaptiv wird, wie im Fall des depressiven Grübelns.
__
Dr. Antoine Lutz ist Forschungsleiter am französischen medizinischen Forschungsinstitut (INSERM) im Forschungszentrum für Neurowissenschaften in Lyon (CNRL). Seit 1998 hat er bei verschiedenen Lehrern Meditation studiert, darunter Mingyur Rinpoche, Tsoknyi Rinpoche, Matthieu Ricard und Joseph Goldstein. Derzeit arbeitet er in einem europäischen Forschungskonsortium mit, das die Auswirkungen von Meditationspraktiken auf das Altern und das Wohlbefinden untersucht, gemessen mit Hilfe von bildgebenden Verfahren des Gehirns, Biomarkern des Alterns und psycho-affektiven und kognitiven Verhaltensmessungen. Kürzlich begann er eine Zusammenarbeit zur Erforschung der neuroinformatischen Grundlagen der Meditation (ANR MindMadeClear, koordiniert von Hugues Mounier, CNRS).
__
HolgerYeshe, geboren in Nürnberg, meditiert seit 20 Jahren und ist seit 2005 Schüler von Mingyur Rinpoche. Im Jahr 2010 ordinierte er als Mönch und studiert seitdem intensiv die tibetische Sprache und buddhistische Philosophie. Sein Interesse gilt auch den gesellschaftlichen Herausforderungen unserer Zeit.
__
Mehr Informationen über die Tergar Meditationsgemeinschaft gibt es HIER. Mehr Informationen über Mind & Life Europe HIER.
__
Eine Livestream der Podiumsdiskussion wird auf dem YouTube Channel von Mind & Life Europe verfügbar sein.