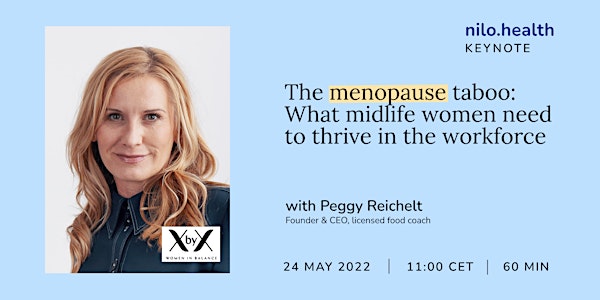 The menopause taboo: What midflife women need to thrive in the workforce
In nilo.health's next webinar we will start the much-needed conversation on what menopause means for women in the workplace.
Zu diesem Event
🗓️ When? May, 24th at 11:00 CET
📍 Where? Held via Zoom
Register here: https://try.nilohealth.com/the-menopause-taboo/
In our webinar on May 24th at 11:00 CET with Peggy Reichelt, Founder & CEO of XbyX- Women in Balance, entrepreneur with 20+ years of experience and licensed food coach, we'll start the much-needed conversation on what menopause means for women in the workplace, share basic information and learn how midlife women can be optimally supported.
Worldwide, women between the ages of 45 and 55 make up roughly 83 out of every 100 workers in the workforce. This makes the number of women workers in this age group almost on par with that of men. These later working years are an excellent time for career building for women, given that children are often old enough to be independent or already out of the house and for both women with and without children, there is also frequently more clarity around their goals, competencies and vision.
That said, this is also the time when menopausal symptoms typically occur. Women may find themselves suffering from hot flashes or night sweats, or experience lesser-known symptoms such as lack of energy, brain fog, heart palpitations, and substantial sleep disturbances – some of which can severely impact their ability to work.
Sadly, menopausal symptoms are still a taboo subject. Particularly during what's known as perimenopause, which typically begins when women are in their early 40s, women may lack the information to properly classify their symptoms, as a result remaining oblivious to the causes of their discomfort and receiving little support. Although every woman goes through menopause, the vast majority of women are not prepared for the massive hormonal shifts it brings with it.
We will explore:
How can companies support midlife women?
When does menopause really start and what are the (often unrecognized) symptoms?
What measures can you take in the workplace to help (peri-) menopausal women feel their best - emotionally and physically?
We are looking forward to have you! Register here: https://try.nilohealth.com/the-menopause-taboo/
Datum und Uhrzeit
Veranstaltungsort