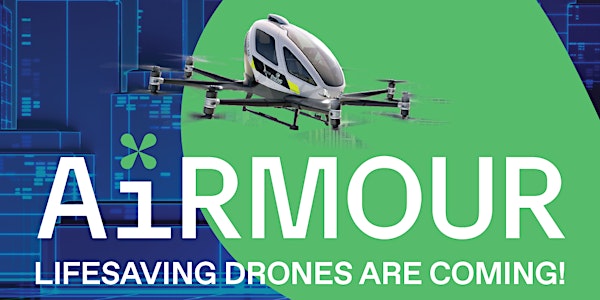 The Medical Drone Business in Luxembourg
This AiRMOUR event intends to involve local stakeholders to elaborate business cases for medical drones in Luxembourg.
Date and time
Mon, 13 Mar 2023 10:00 - 17:00 CET
Location
EUROCONTROL - Aviation Learning Centre 12 Rue Antoine de Saint-Exupéry 1432 Luxembourg Luxembourg
About this event
10:00 - 10:30 Registration and refreshment
10:30 - 11:00 Opening and welcome address & AiRMOUR project overview
11:00 - 12:30 Presentation of the Ehang passenger eVtol, Falcon 1 delivery drone, and simulation of medical use cases
12:30 - 13:30 Lunch break (provided)
13:30 - 15:00 Potential application of delivery drones and passenger eVTOLs in medical emergencies and non-urgent medical use case in Luxembourg
15:00 -15:30 Coffee break (provided)
15:30 - 16:45 Discuss potential business models for the Luxembourg medical sector
16:45 - 17:00 Closing remarks
17:00 - 18:00 Drinks & Networking
AiRMOUR is a research and innovation project supporting urban air mobility via emergency medical services. The AiRMOUR project focuses on the research and validation of novel concepts and solutions to make urban air mobility safe, secure, quiet and green, yet also more accessible, affordable and publicly accepted. As the airspace opens up for new transportation systems, new forms of Urban Air Mobility (UAM), such as passenger drones, are gaining more attention. Similar to the adaptation process of electric cars, there are challenges to overcome related to technology regulations, for example.
In order to tackle these challenges, a great deal more research is needed and cities need to integrate air mobility into their urban planning processes and acquire suitable tools for this. The AiRMOUR project drastically advances the understanding of necessary near-future actions – not only by urban communities, but also by operators, regulators, academia and businesses.