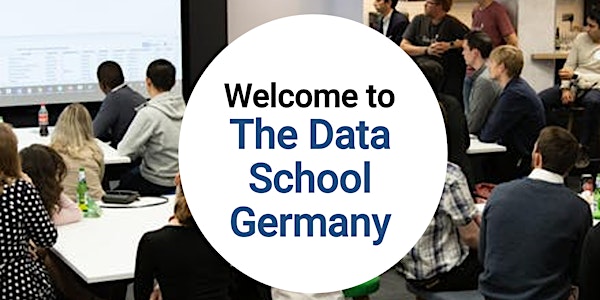 The Data School Deutschland - Meet & Greet im Office März 2022
Event Information
Location
The Information Lab
Kaiser-Wilhelm-Straße 93
20355 Hamburg
Germany
Veranstaltung mit Details über das Leben an der Data School Deutschland, Informationen zur Bewerbung, Demos und Networking.
About this event
Interessierst Du Dich für eine Karriere im Bereich Daten?
Die Data School Deutschland könnte der Traumjob sein, von dem Du nicht wusstest, dass er existiert. Wir stellen alle vier Monate acht Mitarbeiter ein und suchen nach intelligenten, freundlichen Menschen, die offen für neue Ideen und das Erlernen neuer Konzepte sind.
Was ist The Data School?
The Data School wurde 2015 von The Information Lab in London gegründet. Fähigkeiten in der Datenvisualisierung sind in einer Vielzahl von Branchen sehr gefragt und wir möchten dazu beitragen, die nächste Generation von Datenvisualisierungsexperten auszubilden. Wir haben weltweit über zweihundert Data School Consultants ausgebildet, die jetzt nach Abschluss ihrer Praktika in Vollzeit arbeiten.
Es handelt sich um ein 28-monatiges Programm, das aus einer viermonatigen Ausbildungsphase und vier sechsmonatigen Praktika besteht. Das Gehalt beträgt 34 000 € im ersten Jahr und 38 000 € für die restliche Vertragslaufzeit und ist voll bezahlt. 
Für regelmäßige Update-E-Mails melde Dich gerne hier an: https://bit.ly/3lH6TH0
Weitere Informationen zur Data School erhältst du hier: www.thedataschool.de.
Werden Visa gesponsort?
Leider sind die Stellen bei The Data School Deutschland nur für Personen zugänglich, die in Deutschland leben und arbeiten dürfen. Wir sind nicht berechtigt, Visa zu sponsern.
Sprachkenntnisse
Um Dich erfolgreich bei der Data School zu bewerben, musst Du sowohl Deutsch als auch Englisch schreiben und sprechen können.
Komme dazu und lerne uns kennen - die Veranstaltung findet in unserem Büro in Hamburg statt.
Date and time
Location
The Information Lab
Kaiser-Wilhelm-Straße 93
20355 Hamburg
Germany