The China Innovation&Entrepreneurship Competition(UK) Orientation Talk
The 5th China (Shenzhen) Innovation and Entrepreneurship International Competition is taking place in U.K.!
About this event
Online Orientation talk of the 5th China (Shenzhen) Innovation & Entrepreneurship International Competition - UK Division
Time:
(CN) 17:00-18:30 September 28th, 2021
(GB) 10:00-11:30 September 28th, 2021
How to join in:
Zoom meeting ID:893 5226 5826
Participants: Teams who intend to participate in the competition
Agenda:
10:00-10:10 Registration
10:10-10:55 Introduction to the competition and Shenzhen
10:55-11:05 Experience sharing from the previous winning teams
11:05-11:30 Q & A
The competition has officially launched on September 1st, 2021. It is hosted in the form of "online + offline" events among 9 countries. The total prize money is up to about £1.19 million, while a single player may have a chance to win £150,966 maximally.
At the same time, to help startups to link the Chinese market, the competition will provide acceleration services such as matching, investor workshop, incubation etc.
The registration system is now open to the public. Please sign up and compete for the final prize and investment support.
9 Competition Divisions:
London, U.K.
Berlin, Germany
Sydney, Australia
Toronto, Canada
Tokyo, Japan
Tel Aviv, Israel
Eindhoven, Netherlands
Madrid, Spain
Silicon Valley, U.S.
Competition Category:
Overseas Division Competitions Category:
New Generation of Electronic Information
Digit and Fashion
High-end Equipment Manufacturing
Green and Low-carbon
New Material
Biological Medicine and Health
Marine Economy
Reward Competition:
AI Detection
Technology Development of Power Semiconductor Material
R&D and Application Technology of Novel Adsorption Material
Registration
Date: Before 15/10/2021
Official Website
http://www.itcsz.cn/
Make sure you register under U.K. Division. 
Contact 
U.K. Division
Simon Gui
Mobile: +86 13632953979
Email: guibin@intebridge.com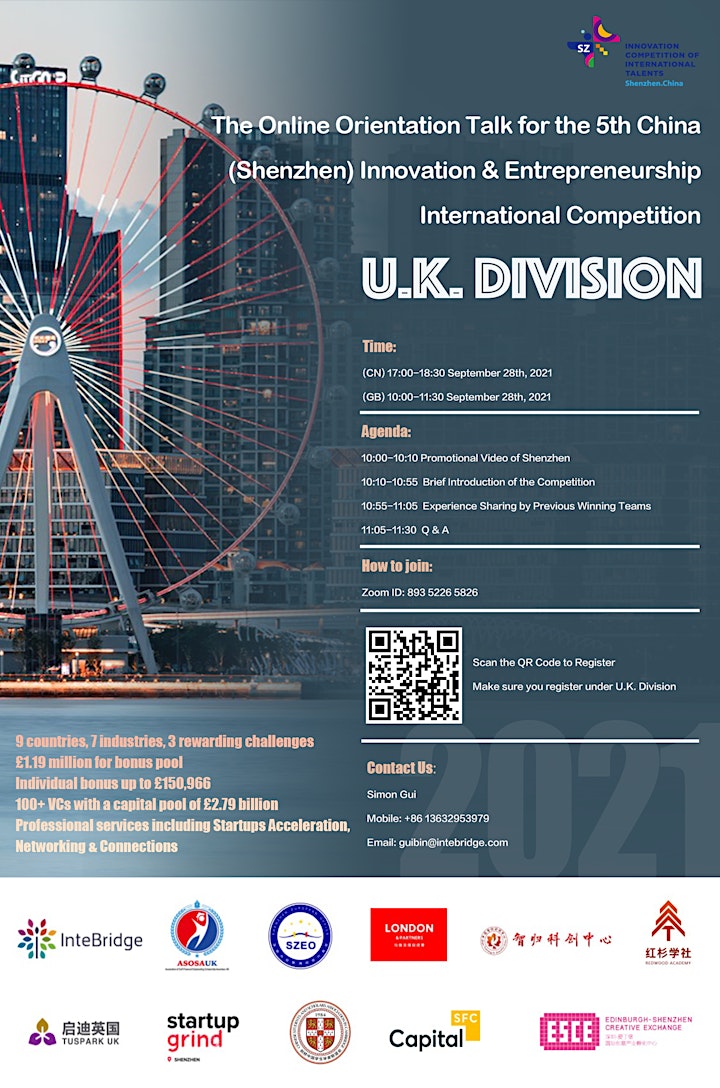 Organizer of The China Innovation&Entrepreneurship Competition(UK) Orientation Talk