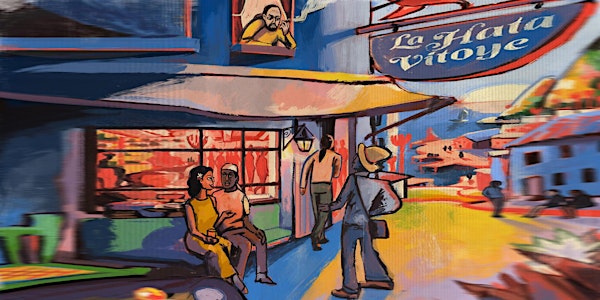 The Bland • Kiel (Hansa48)
La Hata Vitoye - Chapter I
Date and time
Thu, 21 Apr 2022 19:00 - 22:00 CEST
Location
hansa48 Hansastraße 48 24118 Kiel Germany
Refund Policy
Contact the organiser to request a refund.
About this event
The Bland aus Schweden kommen wieder auf Tour
"La Hata Vitoye" – Chapter I
Mit ihrer neuen Single "La Hata Vitoye" schlagen The Bland aus Schweden ein neues spannendes Kapitel auf. Sie kreieren einen Sound, der in seiner Verspieltheit und Neuartigkeit überrascht. In der fiktiven Welt von "La Hata Vitoye" trifft ihr bewährter Indie-Pop auf Latin-Vibes und strotzt vor tanzbarer Energie.
Axel Öberg, Sänger und Songwriter der Band sagt: "Als wir im Februar auf Deutschlandtour waren, hörten wir von den ersten Corona-Fällen. In den kommenden Monaten beobachtete ich als praktizierender Arzt, wie die soziale Isolation den Menschen schadet. Mit "La Hata Vitoye" wollen wir den Versuch unternehmen, das Leben wieder anders zu betrachten. Wir wollen zusammenrücken und ein positives Lebensgefühl teilen." The Bland erfinden mit "La Hata Vitoye" eine Geschichte, die im 13. Jahrhundert beginnt. Sie kreieren Figuren und schreiben Geschichten über sie. Alles beginnt in einer kleinen Bar an der Küste - ein Ort, an dem reisende Entertainer nach langen Touren Zuflucht suchen. Ein Juwel, von dem jeder Geschichten erzählt – Geschichten, die zu gut klingen, um im echten Leben zu existieren.
"La Hata Vitoye" hat seine eigene Kultur. Jeder Charakter, den es in die Stadt zieht, bringt etwas Neues mit und sowie die Welt davon erfährt, entwickeln sich historische Ereignisse.
Auch die eigene Bandgeschichte begann ähnlich romantisch. Die beiden Songwriter Axel Öberg und Anton Torstensson trafen sich als Teenager auf Reisen in Neuseeland. Nachdem sie sich musikalisch ineinander verliebt hatten, beschlossen die Freunde, gemeinsam die Straßen und Clubs der Welt zu bereisen. Über die Jahre sind zahlreiche Songs entstanden, die in ihrem Studio "Röda Paradise", einer roten Holzhütte im Süden Stockholms, aufgenommen wurden. Die fünfköpfige Band spielte jüngst ihre größte Tournee mit Konzerten in ganz Europa und wurde zu wegweisenden Showcases wie dem Reeperbahnfestival in Hamburg eingeladen. Ihre wilden Live-Shows, bei denen sie Abend für Abend ein hingerissenes Publikum hinterlassen, werden auch von den Medien hochgelobt.
Mehr zur Band:
Web & Tickets: www.the-bland.com
Spotify: https://spoti.fi/34HXuaG
Instagram: https://www.instagram.com/thebland/
YouTube: https://www.youtube.com/user/TheBlandBand