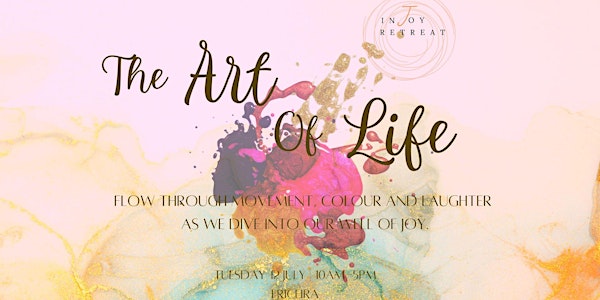 The Art OF Life - Day Retreat
A soul nourishing day on the rhythm of joy, to explore inner and outer worlds through meditation, movement & art, immersed in nature's magic
When and where
Location
House of the Rising Mojo 1 Calçada do Cravo 2640-086 Santo Isidoro Portugal
About this event
Imagine a life of flow, ease and peace...
A life unfolding on the foundation of sustained, deep inner joy that walk alongside you in each and every moment. How would you feel?
We're inviting you to create this joy-led vision, this experience is for you if:
You're looking to create sustainable joy, ease, peace and flow into your life
You wish to nourish your body, mind and soul to a joyful, memorable moment
You want to connect with your inner-self, through joy & colours
You desire to reconnect with your inner child through playfulness and wander
You desire to create a joyful vision for your life
You'd like to connect with your like-minded community
You want to feel empowered to spread joy into your world
Life is easier in joy, when living from our hearts.
What's included:
All the guidance and material to explore your deepest desires: paint, paper, pens…
A delicious lunch
A memorable art piece to take home
A full day of joy, laughter and meaningful conversations with us
InJoy Retreat - More About Us
We are on a mission to spread sustained and abundant JOY.
Why? Because we believe that joy is the key to living a fulfilled and purposeful life with ease and flow.
Let us tell you one secret, joy can only exist in the present moment.
Through conscious movement and breath we tune into our body and spirit to access the wisdom of the body and unlock the mind… We are brought to the present moment where life flow within us. This is your Prana, your life force energy.
Through art we are able to access our subconscious that would be difficult to express using words. To some, art might sound that needs experience or skills, we'd like to tell you it doesn't. Everything that is created is art, you are art, your life is art.
We when we create, movement, ideas, art, sounds, we notify our brain our uniqueness, desires and place in the world. Our brain will reward us by building confidence, trust and becoming even more creative.
From this nourished, confident, and joyful place, you will be guided to envision the deepest expression of the meaning of your life.
Get to know us:
Maeva: A joyful soul trained in vinyasa yoga, meditation, art healing and a passionate explorer of the outer and inner worlds. She started her journey as a nomadic yoga teacher across Europe, South America and Asia, where she developed a strong interest for cultures, ancestral practices and her connection with the moon. She thrives to create spaces where fun, exploration, learning, playing and releasing all come together in order to free your mind and embody the artist of your life. At the end of the day, life is your biggest piece of art.
Anna: Another joyful soul, artist, yoga teacher, mental health advocate and a lover of all things wholesome, cosy and fun! With a passion for adventure, travel, animals, nature and the outdoors, Anna believes art and creativity should be accessible for all and exists in many different ways and is alive in all of us!
Find us on socials:
@injoyretreat
@iammaevalhopez
@annaflynnlookwithin