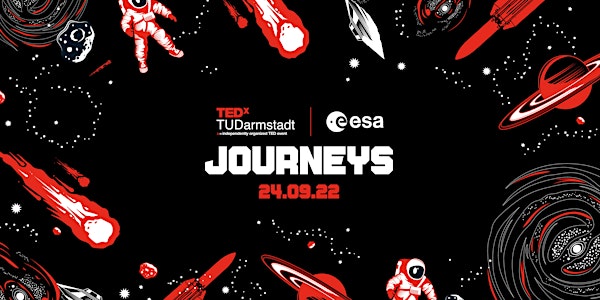 TEDxTUDarmstadt 2022: Journeys
TEDxTUDarmstadt 2022! Be a part of our biggest and most ambitious TEDxTUDarmstadt event to date.
When and where
Location
Europäisches Raumflugkontrollzentrum (ESOC) Robert-Bosch-Straße 5 64293 Darmstadt Germany
Refund Policy
Contact the organizer to request a refund.
About this event
TEDxTUDarmstadt 2022!
This year you will witness our biggest and most ambitious TEDxTUDarmstadt event to date! Our third event will be held under the theme "Journeys", more on that below.
Hosted at the European Space Operations Centre by ESA, we will present 9 outstanding speakers along with additional unique and thought provoking experiences.
Among our speakers you will find Paolo Ferri, who was the Head of Mission Operations at the Satellite Control Center of the ESA and responsible for the Rosetta mission, the AI Researcher Marcel Isbert, and many more! Topics covered at the event will also include mental health, renewable energy and artificial intelligence. During the course of the next weeks we will anounce the speakers and give you more information of what they will share with you on stage.
Apart from the talks, there will be food and drinks throughout the event and the two breaks can be used to interact with the other guests and speakers. TEDxTUDarmstadt aims to create a community of likeminded people, so you can be excited to meet many interesting new people, students, scientists, European Space Agency staff, entrepreneurs and other. It's you who make the community.
After the main event there will also be an afterparty right at the venue, which is sponsored by Accenture. There you will be able to network over a glass of wine.
About our theme Journeys:
Our life is marked by the many journeys we take, may it be physical or of other nature; we are constantly changing and evolving. Our life journeys, changes in our culture and environment, journeys into the unknown and the proliferation of new technologies, all of these will be showcased in our next event on the 24.09.2022. So mark your calendars and get ready to go on a journey with us!
Logistics:
Please plan to come via public transport, as parking opportunities are limited.
The event will be held in English, so that we can both reach our local community as well as our global audience.
Follow us on Instagram: https://www.instagram.com/tedxtudarmstadt/
Find us on LinkedIn: https://www.linkedin.com/company/tedxtudarmstadt/
Get more information on our website: https://tedxtudarmstadt.com/
Disclaimers and Data Privacy Notice:
This Event is not for profit and all the revenue goes to TEDxTUDarmstadt e.V. to finance this event.
Diese Veranstaltung ist nicht gewinnorientiert und alle Einnahmen gehen an TEDxTUDarmstadt e.V. zur Finanzierung dieser Veranstaltung.
Cet événement est à but non lucratif et tous les revenus sont reversés à TEDxTUDarmstadt e.V. pour financer cet événement.
Questo evento non è a scopo di lucro e tutti i proventi andranno a TEDxTUDarmstadt e.V. per finanziare questo evento.
Please be informed that TEDxTUDarmstadt e.V. will collect your personal data such as name, surname and e-mail address to be able to process your registration and attendance of the event. Your personal data will be transferred to the European Space Agency for security reasons related to the hosting of the event, specifically to ensure your entrance to the facilities. TEDxTUDarmstadt e.V. and the European Space Agency may keep your personal data for as long as necessary for the fulfilment of the above-mentioned purpose. Your Personal Data shall be deleted thereafter. You may request the erasure of your data by writing to marketing@tedxtudarmstadt.com and/or robert.feldmann@ext.esa.int at any moment.
Please note that by participating in the event, you are consenting to appearing in the recorded videos as a part of the crowd.
About TEDx, x = independently organized event
In the spirit of ideas worth spreading, TEDx is a program of local, self-organized events that bring people together to share a TED-like experience. At a TEDx event, TED Talks video and live speakers combine to spark deep discussion and connection. These local, self-organized events are branded TEDx, where x = independently organized TED event. The TED Conference provides general guidance for the TEDx program, but individual TEDx events are self-organized. (Subject to certain rules and regulations.)
About TED
TED is a nonprofit organization devoted to Ideas Worth Spreading. Started as a four-day conference in California 30 years ago, TED has grown to support its mission with multiple initiatives. The two annual TED Conferences invite the world's leading thinkers and doers to speak for 18 minutes or less. Many of these talks are then made available, free, at TED.com. TED speakers have included Bill Gates, Jane Goodall, Elizabeth Gilbert, Sir Richard Branson, Nandan Nilekani, Philippe Starck, Ngozi Okonjo-Iweala, Sal Khan and Daniel Kahneman.
The annual TED Conference takes place each spring in Vancouver, British Columbia. TED's media initiatives include TED.com, where new TED Talks are posted daily; the Open Translation Project, which provides subtitles and interactive transcripts as well as translations from volunteers worldwide; the educational initiative TED-Ed. TED has established the annual TED Prize, where exceptional individuals with a wish to change the world get help translating their wishes into action; TEDx, which supports individuals or groups in hosting local, self- organized TED-style events around the world, and the TED Fellows program, helping world-changing innovators from around the globe to amplify the impact of their remarkable projects and activities.