Dieses Event ist beendet.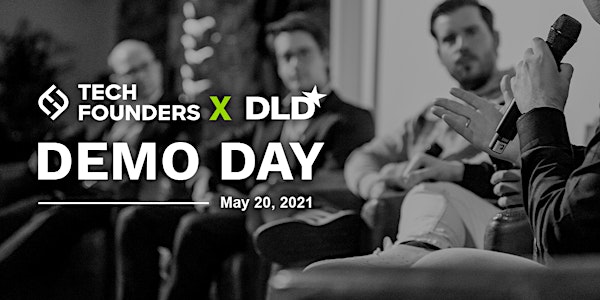 TechFounders Demo Day Batch #13
TechFounders Demo Day Batch #13
Zu diesem Event
IN CASE OF TECHNICAL ISSUES, PLEASE FOLLOW THE YOUTUBE LIVE STREAM HERE.
TechFounders and DLD are joining forces! For the upcoming TechFounders Demo Day, we are partnering up with Europe's leading innovation conference network: Together with DLD, we invite you to an exceptional event to experience entrepreneurial spirit crossing boundaries, bringing visions and new innovations to life.
Are you ready to meet eight amazing startups that are driving future innovations and new business models, and to hear from three female leaders what the world needs now?
Tune in on May 20 at 5:00pm CEST and see the live pitches from the TechFounders Batch #13 startups, followed by a unique panel discussion with three female leaders representing three perspectives in three ecosystems.
Agenda (preliminary):
5:00pm: Short welcome by Miki Yokoyama (Managing Partner TechFounders) and Steffi Czerny, Founder of the DLD Conference
5:05pm: Startup pitches of TechFounders Batch#13
5:55pm: Panel discussion: DLD Sync: Inspiring new connections and synergies between Germany, Israel, and the U.S.
6:25pm: Wrap-Up & Closing
Feel free to forward this invitation to colleagues, partners, and your network. The Demo Day is a freely accessible virtual event - the more, the merrier!
We are looking forward to your participation!
Kind regards,
The TechFounders and the DLD Team