Dieses Event ist beendet.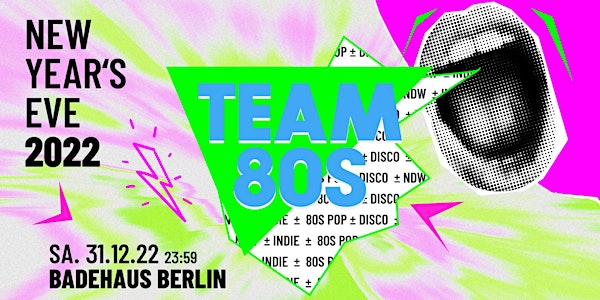 Team 80s • NEW YEAR'S EVE 22 • Berlin
Back in Time w/ 80s Pop, NDW, Disco & Postpunk
Zeit und Ort
Veranstaltungsort
Badehaus Berlin Revaler Str. 99 10245 Berlin Germany
Karte und Wegbeschreibung
Rückerstattungsrichtlinie
Kontaktieren Sie den Veranstalter, um eine Rückerstattung anzufordern.
Zu diesem Event
We're shooting forward a year and right back to the 80's.
With your beloved hits of that decade, we'll completely freak out and really go nuts. 80s Pop, Disco, New Wave and everything your heart desires make this night a rocket among the parties.
Get your ticket now to save your dance at Team 80s
31.12.22 // 23:59 // Badehaus Berlin // flown by King Kong Kicks
pre-sale: 10 € // at the door 15 €
Sounds like:
Wham, Simple Minds, Joy Division, Kate Bush, Elton John, ABBA, Peter Schilling, Tears For Fears, Soft Cell, A-Ha, Kylie Minogue, The Clash, Journey, TOTO, Frankie Goes To Hollywood, The Cure, Depeche Mode, The Smiths, Iggy Pop, Kraftwerk, New Order, Duran Duran, Fleetwood Mac, Queen, the Human League, Kim Wilde, Genesis, Falco, Whitney Houston, Culture Club, The Police, David Bowie, Talk Talk, Billy Idol, Alphaville, Joachim Witt, Andreas Dorau, Donna Summer, Bonnie Tyler, Rick Astley, Kenny Loggins, Bruce Springsteen, Bronski Beat, Men At Work, Madonna, Blondie, Prince, OMD, Cindy Lauper, Womack & Womack &&&
Entry: 18+ // cashless only