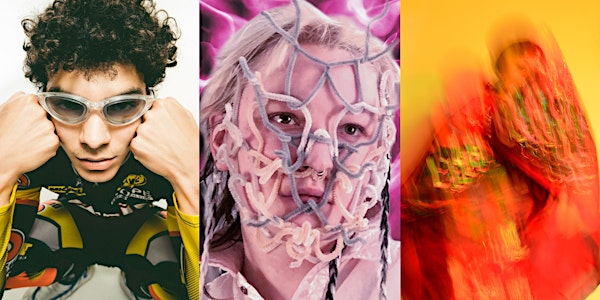 TAZ CHERNILL / JOA LUNA / INTO PIXEL
TAZ CHERNILL & INTO PIXEL
Zeit und Ort
Veranstaltungsort
PANDA Platforma Knaackstraße 97 (im kleinen Hof der Kulturbrauerei) 10435 Berlin Germany
Karte und Wegbeschreibung
Rückerstattungsrichtlinie
Kontaktieren Sie den Veranstalter, um eine Rückerstattung anzufordern.
Zu diesem Event
2 Stunden 30 Minuten

Mobile E-Tickets
* TAZ CHERNILL
USING ELEMENTS OF EXTREMELY DIFFERENT TRENDS AND GENRES, TAZ CHERNILL CREATE AVANTGARDE 'POP WORK OF ART' INTEGRATING FASHION AND DESIGN INTO THEIR MUSIC. Sophisticated electronic sounds obtained through long night experiments, temperature lyrics and heartbreaking vocals line up in beautiful melodies that you will start to miss so soon.
Taya and Roman met in Moscow while studying in college. Since they've moved to Germany, the musicians actively began to work on their own music, trying themselves in various ensembles and genres. TAZ CHERNILL has already released two EPs ("AMORFIN" 2018, "NIMFAMOR" 2018) on Ivan Dorn's «Masterskaya» label (Ukraine). 2020 the musicians released their album "Apokalipsis" and in august 2022 came out their 4th Album «DE.AD» produced with all-electronic sounds and self-made sound-design (Label «ЛЕЙБЛ», Moscow). TAZ CHERNILL plays in Germany, takes part in international festivals (Acht Brücken, c/o pop cologne, Klaeng, Asphalt, etc.).
LINKS
insta – https://instagram.com/tazchernilll
ive video – https://youtu.be/GVRP3grH0-8
music – https://zvonko.link/dead
* JOA LUNA
Joa Luna creates patchworks of rich vibrating sound that interlace between avant-garde, ambient, electronica, broken beats and the unknown. Originally from Poland she now occupies a unique space in the Berlin music scene. In order to express, transcend and understand the complexities of this modern life she constantly expands and tinkers with her toolbox of techniques and approaches. Connections are particularly important to Joa, the acceptance and embracing of the human experience inside nature guide every song. She is a daydreamer, a wandering creature, looking for answers in the forest, in the rivers, in the wilderness and in between the lines of her emotions.
LINKS
https://www.instagram.com/joalunasound/
https://linktr.ee/joaluna
https://youtube.com/playlist?list=PL9Y6dFqw2oH4y_fHpNZTW1rLfFHoiQsYu
* INTO PIXEL
INTO PIXEL is a Berlin based electronic project.
It is the side project of self produced musician named OCRAN Kyiv based in past. NTO PIXEL is a mix of different inspiring episodes of musician's own live. expressed by deep and melodic vibes of UK electronic as well as Juke and Ghetto house music.
Tracks are pretty fast so you can find your animal basis and true passion by your moves in gap between 130 and 150 beats per minute. You have a perfect possibility to hear a new unreleased INTO PIXEL album made by random samples and analog synthesizers merged together.
LINKS:
inst – https://www.instagram.com/ocran_ocran_ocran/music – soundcloud.app.goo.gl/idtSKEJCvgyPr4xs7spotify – https://open.spotify.com/artist/0Cd0pmy8KJDHKmwt6Rlgis?si=05YtQvTgTQim9YDz64PdIQ
TICKETS:
VVK (pre-sales) 8€ / AK (doors) 15€