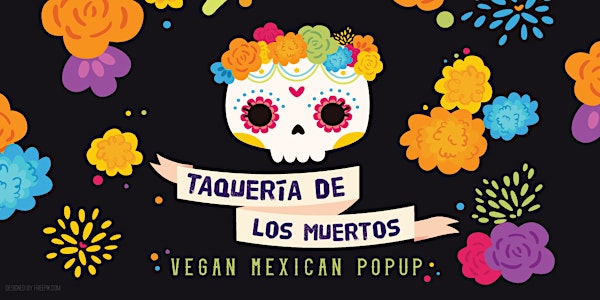 Taquería de los muertos - Tasting Menu
When and where
Location
Mamma Berlin Lenaustraße 5 12047 Berlin Germany
Description
In November, our usual Merendero del Agave turns into the Taquería de los Muertos. We are featuring a special, deadly delicious vegan menu to commemorate Día de Muertos. Enjoy a menu of memlitas, tacos, and tostadas, made with traditional Mexican methods but a vegan twist. You can just come by and order any Dish u want to eat or book your Tasting Menu in here.
Tasting Menu - You may choose a spot for your reservation by selecting one of the four type of tickets. One ticket is valid for one person and includes the following:
- APPETIZER
Crema de Elote con chile poblano: creamy roasted corn soup topped with fresh poblano and lime crema

- MAIN (one piece of each with side dish)
1) Home Smoked Mushroom and Jackfruit Tostada: one crunchy corn tortilla topped with home smoked king oyster and jackfruit mix, topped with salsa verde. Served with morita cabbage slaw and cashew crema, with a side of seasoned black beans and guacamole.

2) Chile relleno de Papas con Chorizo: one Mulato or Poblano Chili filled with plant based chorizo and crispy potatoes in a guajillo chili salsa. Served with cashew crema, and a side of seasoned black beans and guacamole.

3) Spicy Pumpkin Memela: one thick, crispy corn memela topped with roasted a pumpkin and sweet potato medly, slow cooked in three-chili-orange salsa. Served with cashew crema and a sprinkle of pomegranate seeds, with a side of seasoned black beans and guacamole.

- DESSERT:
Coconut Caramel Tres Leches cake: a slice of decadent vanilla cake soaked in a coconut cream custard sauce, spiked with a hint of tequila. Topped with coconut whipped cream, shredded coconut, caramel sauce, and pomegranate seeds.

- DRINKS
* Agua de Jamaica
* One Shot (2cl) to choose from Tequila or Mezcal Casa Coronel (100% Agave).
EXTRAS - not included in Tasting Menu - Give a toast to those who have gone before us with a drink from our agave bar - Mezcal, Tequila, Pulque and Micheladas, German Craft Beer and Red and Rosé Wines. Bring out your día de muertos spirit by getting your face painted like a Catrina ghost.