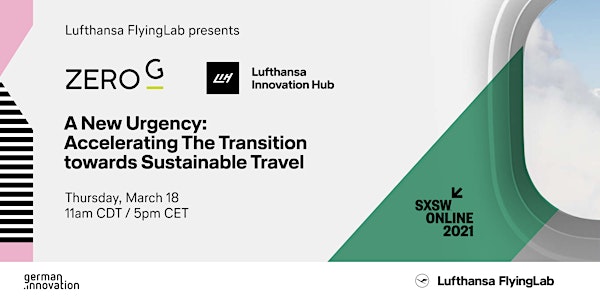 SXSW Lufthansa FlyingLab | March 18 at 11 am CDT = 5 pm CET
Accelerating the Transition towards Sustainable Travel
About this event
This session will be available via zoom
***********************************************************
Lufthansa FlyingLab
Accelerating the Transition towards Sustainable Travel
Part I
How Data and AI Fuel the Transition towards Aviation Sustainability
with
Manuel von Esch and Aman Bhattarai | zeroG
Lufthansa FlyingLab is pleased to present How Data and AI Fuel the Transition towards Aviation Sustainability, a talk by Manuel van Esch (LinkedIn) and Aman Bhattarai (LinkedIn), data experts with zeroG.
Aviation plays a key role in the world's transition to sustainability, and it is criticized for not doing enough. Manuel and Aman will explore how data science creates new ways of reducing aviation's carbon footprint that go beyond technical solutions.
About zeroG
At zeroG, a team of over 40 data experts is transforming how airlines operate. By starting with the end user and finishing with the technology, zeroG empowers people to make the best possible decisions. Through transparent and precise data analysis, intuitive insights and effective collaboration arise.
Part II
Accelerating Sustainable Travel
with Christine Wang | Managing Director of the Lufthansa Innovation Hub
At the Lufthansa Innovation Hub we strongly believe that digital technologies can be used to create services and offerings that have a differentiating value for customers. Hence we have taken over the responsibility to unearth new digital business opportunities for the Lufthansa Group. One of the key areas we are active in with our digital expertise is creating a more sustainable travel experience. In her presentation Christine Wang, Managing Director of the Lufthansa Innovation Hub, will dive into results, challenges and future plans regarding developing digital sustainable products for the travel and mobility industry
About Lufthansa Innovation Hub
We're reinventing the travel of tomorrow by working at the intersection between the Lufthansa Group and the global Travel & Mobility Tech ecosystem. We strive to come up with new ways to incentivize intermodal mobility, work on data interfaces that cleverly link all services along the travel journey, and develop digital solutions that make mobility and travel more sustainable. Our sphere of activity is not just flying, but the entire travel chain. Our work begins wherever travel does not yet function seamlessly. Ultimately, we want to simplify every single trip in the world with our digital solutions.
"Accelerating the Transition towards Sustainable Travel" is part of the Lufthansa FlyingLab SXSW Online 2021 presence in cooperation with german.innovation. For more information on the Lufthansa FlyingLab, please also visit:
https://www.flyinglab.aero/en/sxsw2021/
#staysafe
#sxsw
#flyinglab
The Lufthansa FlyingLab Team is delighted to partner with german.innovation at this year's SXSW Online festival. Together we will present talks and companies that are exploring the new ways emerging in Sustainability, Data, and Smart Travel.
Primarily a music and film venue in its early years, SXSW has grown to encompass society's digital evolution. It is the place where creative minds gather to visualize the future. Lufthansa Innovations has shared in that vision since 2012. In 2017, the first Lufthansa FlyingLab flight dedicated to SXSW took place, bringing together people from the spheres of art, music, and technology.
In March 2020, the now annual SXSW FlyingLab flight was cancelled just days before take-off because of the growing COVID-19 pandemic. Our connected world suddenly felt very disconnected.
Over the past year, the FlyingLab Team has been able to regroup at the FlyingLab Factory, a space designed for collaborative work. We have rethought existing projects, leading to new perspectives on how we can reconnect.
What have we learned? The pandemic has taught us that the isolation necessary to protect everyone's health does not mean that we stop expressing ourselves. It has proven that creative collaboration flourishes and big ideas are born even at a distance. It has thrown us headfirst into the opportunities that digitalization opens up.
But perhaps most importantly, the pandemic made us aware of something taken for granted in the past: that creativity is carved and polished into a tangible experience only when we gather together in one place.
On behalf of the FlyingLab Team, we look forward to the day when our collaboration is shared in person again: at cruising altitude and on the ground in Austin at SXSW, the global event most receptive to new ways of experiencing the world.
***********************************************
This session will be available via zoom
https://us02web.zoom.us/j/82527052972?pwd=cndnblhudmZtYThBRVRQaEhMMzRSUT09
meeting code: 825637