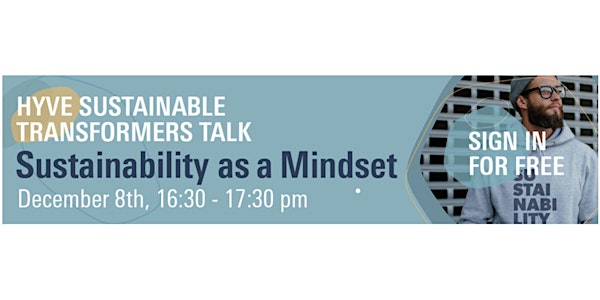 Sustainable Transformers Talk Vol. IV - Sustainability as a mindset
HYVE's Sustainable Transformers Talk enters the fourth round - Sustainability as a mindset
About this event
The end of the year is a great time to reflect and set the right focus for the following year. That's why we're excited to wrap up this year discussing sustainability as a mindset & transformation topic. This time, we're co-hosting the talk with Institute for Innovation and Change Methodology (IICM). We welcome experienced speakers who will share their lessons learned in driving sustainability within corporations, as well as at a personal level.
As more and more people and companies are aware of the planetary changes, dynamics, and upcoming regulations – we're focusing a lot on the external forces and impacts. Yet, to drive sustainable change, we also need to look inwards: how do we bring others along on this journey? What are the values, assumptions, and beliefs we live and share, and how do we shape them?In this talk, we'll discuss the following questions:
How can you drive sustainability from within?
How can you ensure you get people on board?
What are the obstacles/ watch-outs when wanting to push for sustainability?
What can you, personally, do to be and drive the change?
We believe that sustainability is a huge playfield where many views, expertise, and approaches are needed, so we're looking forward to discussing this with you!
Get showered with inspiration from our experts & thought leaders!
Our guests & your hosts