Dieses Event ist beendet.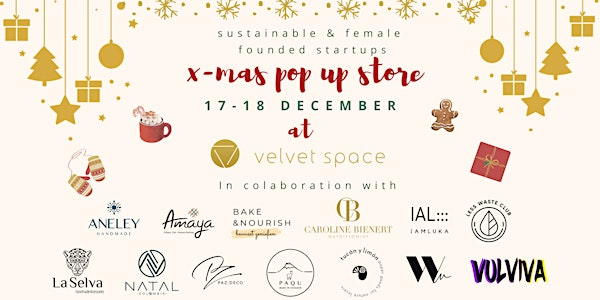 Sustainable PopUp Christmas Market
Stop by to find some sustainable products and labels and enjoy some Glühwein with us!
Zeit und Ort
Veranstaltungsort
velvet space Amalienstraße 71 80799 München Germany
Karte und Wegbeschreibung
Zu diesem Event
At velvet space we love to support local startups and small businesses. For this reason and to continue our Christmas tradition we're organizing our yearly sustainable design Christmas Market.
With mulled wine, ginger bread and christmas music you can look for gifts in peace and learn more about the products and background stories from the exhibitors.
As a little pre-christmas gift from our side, we will be giving away free coworking day passes to start the new year with more productivity and new inspiration.
We love meeting new people so just come by, tell your friends, say hello and let the christmas spirit surround you.
Your velvet space team
Start ups participating in our Christmas Market
ANELEY STUDIO
Aneley is a studio for my creative expression in the form of jewellery, illustrations and paintings.
This small label was founded to share my handmade creations with the world.
Every creation is made by me with great attention to detail.
The jewelry is made of Polymer clay. This is a long-lasting, oven-hardening, solid modeling clay consisting of PVC particles that are mixed with plasticizers and color pigments to form a kind of clay. The pieces of jewelry are unique and in a limited edition.
The mixed media illustrations always follow positive statements and should make the viewer happy and satisfied.

All illustrations are partially decorated with gold leaf by hand.
My painting is created from different haptic structures on canvas and tempts the viewer to want to touch the picture.
If you want to know more visit:
https://www.etsy.com/de/shop/aneleystudio/
AMAYA
Amaya is a brand of women's clothing made in a fair way. We are passionate about what is made slowly and with meaning. That's why we offer unique hand-woven clothes made by Mexican artisans, who through their weavings tell us a story.
If you want to know more visit:
https://amayaonlineshop.com
BAKE AND NOURISH
BAKE & NOURISH is a Munich-based start-up that makes healthy baking easy and fun! Their baking kits come with a proven, more nutritious recipe and all-natural, high-quality ingredients. Perfect for easy holiday baking or as a gift for your loved ones!
If you want to know more visit:
https://bakeandnourish.com
Caroline Bienert Nutritionist - Recipe book
There are no 'bad' foods, people only have a slow metabolism and a sluggish gut.
The phrase 'You are what you eat' is no longer quite right. It should be: 'You are what you can metabolize'!
This is because we have a very different lifestyle today compared to 100 years ago. We eat too many rapidly available carbohydrates (simple sugars) such as pasta, pizza, sandwiches, fast food, convenience food, cakes, sweets and hardly any vegetables.
By the way, lettuce is not a vegetable.
I am writing this here because so many of my clients don't even know this! How could they? Nobody tells them about it! Salad is always presented as THE slimming product par excellence - but it's not!
With my little recipe book, I would like to inspire you to eat differently for three months - try a different diet for three months!
Since 90% of people in the Western world have metabolism and digestive problems, you will clean your body and metabolism with these inspiring recipes and bring it back to full speed. This recipe book is much more! It is more of a "food concept", you will learn to integrate healthy nutrition into your life. It is the reset for your body to get your metabolism going, lose weight, be healthy and feel fitter. That's why this book is now available for you, dear reader, for the first time.
If you want to know more visit:
https://www.carolinebienert.com/en/
NATAL Colombia
Is a label for contemporary ethical fashion and design dedicated to bring and promote the best of the Colombian craftsmanship in Europe. We find and work directly on fair trade conditions with the finest artisans from across Colombia, who elaborate by hand each of our unique gems. Using fascinating raw materials and traditional manufacturing techniques passed on by generations, they capture the essence of our origins, cultural identity and diverse traditions in every single colour, pattern and piece they make.
If you want to know more visit:
https://www.natalcolombia.co
LESS WASTE CLUB
We are the LESS WASTE CLUB. As a collective we want to try to improve products of daily use to such an extent that we relieve the environment and thereby make a small but significant contribution to a better world. For the beginning we have three points in our focus:
Reduction of CO2 - emission during the whole supply chain of our products.
Reduction of plastic consumption in the packaging sector.
Use of regional and renewable resources as far as possible.
If you want to know more visit:
lesswasteclub.de
PAQU ECUADOR
Is a small company based in Munich, that works with indigeneous artisans of the highlands from Ecuador. Here you will find handmade alpaca wool products, for home-deco, clothes and accessories.
If you want to know more visit:
https://paquecuador.com
PAZDECO
Home accessories and decoration to love your home.
Select design and quality products.
Exclusive and unique products from Argentina.
If you want to know more visit:
https://pzdeco.de
SELVA ACCESORIES
La Selva Accessories is a Munich based startup bringing Latin chic designs in the market. Our aim is to spread the magic of Colombia by bringing original and handmade accessories made by talented artisans from indigenous communities in our country.
Our start-up is engaged in improving the living conditions of our artisans and aid the native communities where they belong to. Our goal is to protect the Colombian rainforest and its ecosystem through the creation of our own La Selva foundation society, that will be acquiring deforested land, to reforest it again with the support of the native communities.
5% of our revenue will be donated to La Selva foundation to invest in social projects and environmental protection.
If you want to know more visit:
https://www.etsy.com/de/shop/LaSelvaAccessories?ref=seller-platform-mcnav
TUCAN Y LIMÓN
Paper goods for nature lovers offers nature-loving paper products centered around nature and biodiversity. The illustrations are painted by hand with watercolors, digitized and printed in a social workshop in Munich on 100% recycled paper from Gmund Tegernsee. 10% of sales go to protect whales and our oceans as a donation to the Whale and Dolphin Conservation and the sponsored humpback whale Salt.
If you want to know more visit:
www.tucanylimon.com
VULVIVA
Vulviva is a Munich-based label which took on the task to create more awareness for female pleasure and empowerment.
We create beautiful vulva necklaces and earrings - whether you want to make a statement or just like the looks, there is the right necklace - colorful and bright or elegant.
Every Vulva is unique and handmade with a lot of 💜
5% of our revenue is donated to NGOs fighting for female rights in the world.
If you want to know more visit:
https://vulviva.com
WILD &whyte
WILD &whyte founded by Sinja Eikmeier and Lisa Scheithe offers stationery for female entrepreneurs as well as ritual essentials, designed and packed with love to detail: planners and calendars, journals and notepads as well as packages with cocoa, palo santo, crystals, candles, essential oils and more.
If you want to know more visit:
https://shop.wildandwhyte.de