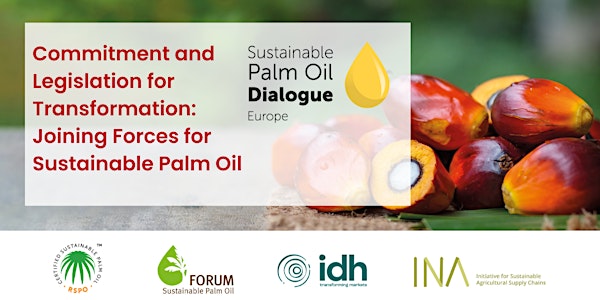 Sustainable Palm Oil Dialogue Europe 2023
Commitment and Legislation for Transformation: Joining forces for sustainable palm oil
Date and time
Wed, 14 Jun 2023 08:30 - 17:30 CEST
Location
Lindner Congress Hotel Frankfurt Bolongarostraße 100 65929 Frankfurt am Main Germany
Agenda
8:30 AM
Open registration and coffee
Plenary Session 1
---
Setting the scene: Perspectives on the EU Deforestation Regulation
Plenary Session 2
---
EUDR: Risk mitigation measures to prevent deforestation
Breakout session 1
---
Assuring smallholder inclusion
Breakout session 2
---
A view into the future of oleochemicals
Breakout session 3
---
Comprehensive approach to landscapes: ensuring implementation at field level
Breakout session 4
---
Making EUDR work: data sharing and interoperability
Plenary feedback of breakout sessions
Plenary session 3
---
Downstream Due Diligence
Plenary session 4
---
Beyond the environment: Essential social considerations
5:25 PM - 5:30 PM
Final Thoughts and Ending of the SPOD 2023 (programme is subject to changes)
About this event
How do we combine our efforts
More than one and a half years of negotiations, the text of the EU Deforestation Regulation (EUDR) is soon to be adopted. So now that the "what?" is known, this year's event will focus on the topic that is on everybody's mind: How do we combine our efforts to successfully implement this regulation in a manner which doesn't leave anyone behind?
Frequently asked questions
Do you offer rooms at the Lindner Conference Hotel Frankfurt?
How do I make a reservation?
How is the cancellation policy for the room?
When is the deadline for registration for the event?