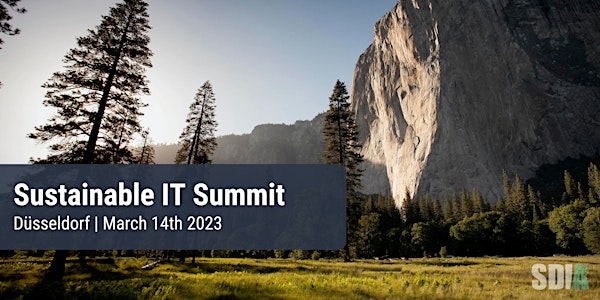 Sustainable IT Summit - Düsseldorf | SDIA
SDIA's very first summit on sustainability and digitization in the context of regionality
When and where
Date and time
Tuesday, March 14 · 1 - 9pm CET
Location
Place to be Forty Four Rolandstraße 44 40476 Düsseldorf Germany
Refund Policy
Contact the organizer to request a refund.
About this event
Als eine der wirtschaftsstärksten Regionen der Welt ist das Rhein-Ruhr Gebiet auch das Zuhause eines starken IT-Sektors. IT-Beratungen, Systemhäuser und Infrastruktur-Anbieter liefern gemeinsam das Fundament für die Digitalisierung der Industrie und gestalten durch Ihre Arbeit die digitale Transformation der Region. Doch der IT-Sektor wird zunehmend globaler mit immer stärkerem Wettbewerb, der die regionalen Akteure herausfordert. Gleichzeitig sorgt die anhaltende Nachhaltigkeitsdebatte, und die damit verbundenen Prioritäten für die Bewältigung der Klimakrise, für zunehmenden Fokus auf Regionalität, z.B. im Sinne einer "Donut Wirtschaft".
Im Rahmen dieser Veranstaltung möchten wir mit Beispielen für Innovation und Nachhaltigkeit aus dem IT Sektor der Rhein-Ruhr Region und Diskussionen ein gemeinsames Leitmotiv für die nachhaltige Entwicklung des Sektors in der Region definieren. Im Anschluss erarbeiten wir mit allen Teilnehmern ein gemeinsames Positionspapier, in dem wir konkrete Forderungen und Maßnahmen skizzieren, die die notwendigen Rahmenbedingungen für einen wettbewerbsfähigen und starken regionalen IT-Sektor in der Rhein-Ruhr-Region schaffen.
Gäste & Zielgruppe
IT Dienstleister, Beratungen und Systemhäuser aus der Region Rhein-Ruhr
IT Infrastruktur Anbieter aus der Region Rhein-Ruhr
Politische Entscheider, Vertreter der Wirtschaft in der Region, Verbandsvertreter
Internationale Unternehmen in der Region die IT Dienstleistungen und Infrastruktur beschaffen
Öffentlicher Einkauf von IT Dienstleistungen NRW/Bund
Agenda
13:00 - 13:30: Einlauf der Gäste, Snacks & Kaffee
13:30 - 14:00: Begrüßung durch SDIA und Partner
14:00 - 14:15: Speaker: Wir wollen in regionale Champions investieren!
Christoph Großekämper, Deutsche Beteiligungs AG
14:15 - 15:30: Panel #1: Herausforderungen für Regionale Champions aus der Rhein-Ruhr-Region (mit Impulsen von regionalen Anbietern)
Marco Nöchel, HKN
Christoph Streit, Scale Up IT
Christoph van Lück, ECHO eG
15:30 - 16:00: Kaffeepause
16:00 - 17:00: Panel #2: Anforderungen an Maßnahmen für nachhaltige und wettbewerbsfähige, regionale IT
Laurie Servais, Airbus
Martin Eichenseder, TCO Certified
Stephanie Hackenholt, Lufthansa Industry Solutions
17:00 - 17:45: Erarbeitung Positionspapier als "World Cafe"
17:45 - 18:30: Aperitif und Abendessen
18:30 - 21:00: Ausklang und Networking
21:00 Uhr: Ende der Veranstaltung
Veranstaltungsort: Place to be Forty Four, Rolandstr 44 - 40476 Düsseldorf
Disclaimer: This event will be held only in German
For more information and weekly updates, you can follow us on LinkedIn and Twitter.