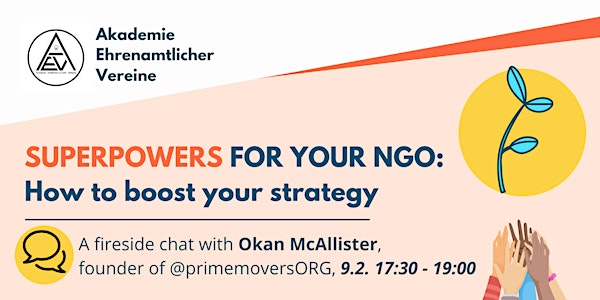 Superpowers for your NGO: How to boost your strategy with Okan McAllister
A fireside chat with Okan McAllister, founder of @primemoversORG
About this event
**This event will be held in English and is free of charge.**
You are part of a (youth) association and are motivated to make a difference in the world? You are wondering how to make even more of an impact, aligning your activities with your goals and just getting more done? You are looking for cool advice, inspiring stories and project management tricks, all from an expert with entrepreneurial mindset and experience?
Then grab your hot tea (or your other favourite drink;)) and join our virtual fireside chat with Okan McAllister on strategy and organisation in your NGO/association!
Okan will answer your questions and share best-case practices from his experience spent in different impact organisations. It will be an informal chat about how to focus on the right things, the right way as an organisation.
This is the first English event at the young Academy of Non-profit Associations (AEV) that we're organising. And it's also the first public one, to give you a taste of the community we offer our members.
Okan McAllister is the founder of the award-winning social enterprise PRIME MOVERS as well as kindby, ONE DAY, and Mission Liftoff among others. He has spent the past seven years working in, co-founding (and failing) as well as capacity building for several impact organisations. He is passionate about making people believe in their abilities to shape the world, where systems thinking plays a crucial role.
You can listen to his story here!
You can learn more about systems thinking here!
Wondering what a fire-side chat looks like? Get ready for an informal atmosphere in a small group. We'll be having a conversation and covering different topics, and you'll get the chance to ask your burning questions. Rest assured that you'll find answers to questions you didn't even know you had and get in touch with really inspiring people. The event will last from 17:30 to 19:00 with space for chatting after the official end.
So, don't forget to bring your drink & questions and see you on Tuesday, 9.2! :)
The Academy of Non-profit Associations (AEV) is a network of non-profit associations and creates synergies to promote exchange, further training and knowledge transfer between its member organizations. The association is currently only active in Austria with the aim of creating a Europe-wide network.
Your organization/you are interested in the AEV? Then become a member and join our community (in German). For more information click here!