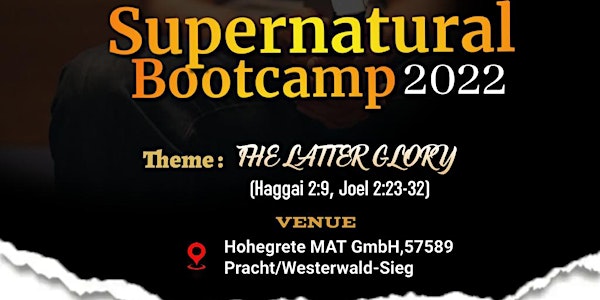 Supernatural Bootcamp 2022
Supernatural Bootcamp 2022 Theme: THE LATTER GLORY Date: 24-27 Nov 2022
When and where
Location
Bibel- und Erholungsheim Hohegrete MAT GmbH Hohegrete 11 57589 Pracht Germany
About this event
SBC 2022 - English
The Supernatural Boot Camp 2022 (SBC 2022) is an annual event organized by ReachOut International, in collaboration with the Evangelical Church of All Nations (ECAN), Stuttgart, and other partner churches and ministries. It brings believers together from around Europe and the world at large to a remote campsite that is free from distractions to participate in a Bootcamp under the tutorship of spirit-filled men of God with experience in the supernatural. From its inception, SBC has always enjoyed a powerful supernatural atmosphere and unprecedented manifestations of God's power, glory, and wonders.
The goal of SBC and School of Supernatural is to raise a supernatural culture of believers through gift activations and impartations, sound biblical teachings, training and prayers.
This year's SBC 2022 will operate under the theme: "THE LATTER GLORY (Haggai 2:9; Joel 2:23-32)". In this season, the world is about to see the visible manifestation of God's latter glory in dimensions and degrees like it has never been. It is time for the church to walk in extreme dimensions of God's glory and wonders. There is an outpour of glory that paves way for greater works as promised in John 14:12. We are the generation that will reflect the totality of His glory on earth.
CHILDREN CAMP
There is also a 'Children Camp' which enables the parents attending the event not to worry about where to keep their children during the Bootcamp and allow the children to as well have a wonderful time with the Lord. Please check the registration for children.
LODGING
The venue to host this event will be the Bibel und Erholungsheim, Hohegrete MAT GmbH, 57589 Pracht, Rhineland -Palatinate which is well equipped with single rooms, double rooms, and group rooms, as well as wheelchair-accessible rooms. The beautiful and quiet environment offers a unique environment for meditation, quiet time, and supernatural encounters.
Every registered participant will be lodged in the event venue except they decide otherwise at their own extra cost. Participants will be distributed to the different rooms on arrival at the Bootcamp site. Everyone should be prepared to share a room with others depending on the distribution of participants. Acquainted individuals can group themselves to occupy a room on request. This should be indicated when completing the online registration. There you can add the names of the people you would like to share a room with.
FEEDING
Feeding (breakfast, lunch, and supper) is included in the registration package.
LANGUAGES
The Bootcamp will be in 3 different languages. English, German, and French. (Interpreter's headsets will be available)
SBC 2022 - Deutsch
Das Supernatural Boot Camp 2022 (SBC 2022) ist eine jährliche Veranstaltung, die von ReachOut International in Zusammenarbeit mit der Evangelischen Kirche aller Nationen (ECAN), Stuttgart, und anderen Partnerkirchen und -diensten organisiert wird. Sie bringt Gläubige aus ganz Europa und der ganzen Welt auf einem abgelegenen Campingplatz zusammen, der frei von Ablenkungen ist, um an einem Bootcamp unter der Leitung von geisterfüllten Männern Gottes mit Erfahrung im Übernatürlichen teilzunehmen. Seit ihrer Gründung hat sich die SBC immer einer kraftvollen übernatürlichen Atmosphäre und noch nie dagewesenen Manifestationen von Gottes Macht, Herrlichkeit und Wundern erfreut.
Das Ziel der SBC und der School of Supernatural ist es, eine übernatürliche Kultur von Gläubigen durch Gabenaktivierungen und -verleihungen, solide biblische Lehren, Schulungen und Gebete zu schaffen.
Das diesjährige SBC 2022 findet mit dem Thema statt: "DIE LETZTE HERRLICHKEIT (Haggai 2:9; Joel 2:23-3:5)". In dieser Zeit wird die Welt die sichtbare Manifestation von Gottes letzter Herrlichkeit in einem Ausmaß und in einer Intensität erleben, wie es sie noch nie gegeben hat. Es ist an der Zeit, dass die Gemeinde Gottes in extremen Dimensionen von Gottes Herrlichkeit und Wundern wandelt. Es gibt eine Ausgießung der Herrlichkeit, die den Weg für größere Werke ebnet, wie in Johannes 14,12 verheißen ist. Wir sind die Generation, die die Gesamtheit Seiner Herrlichkeit auf Erden widerspiegeln wird.
KINDER-CAMP
Es gibt auch ein Kindercamp, welches den teilnehmenden Eltern ermöglicht, sich keine Gedanken darüber machen zu müssen, wo sie ihre Kinder während des Bootcamps unterbringen sollen, und die Kinder auch eine wunderbare Zeit mit dem Herrn verbringen können. Bitte registrieren Sie jedes Kind seperat.
UNTERBRINGUNG
Der Veranstaltungsort ist das Bibel und Erholungsheim, Hohegrete MAT GmbH, 57589 Pracht, Rheinland-Pfalz, das mit Einzel-, Doppel- und Gruppenzimmern sowie rollstuhlgerechten Zimmern gut ausgestattet ist. Die schöne und ruhige Umgebung bietet eine einzigartige Umgebung für Meditation, stille Zeit und übernatürliche Begegnungen.
Jeder angemeldete Teilnehmer wird am Veranstaltungsort untergebracht, sofern man sich nicht dazu entscheidet auf eigene Kosten außerhalb eine eigene Unterkunft zu suchen. Die Teilnehmer werden bei ihrer Ankunft am Veranstaltungsort auf die verschiedenen Räume verteilt. Darum sollte man sich darüber bewusst sein, dass man ein Zimmer mit anderen teilen wird, je nach der Verteilung der Teilnehmer. Einzelzimmer werden mit zusätzlichen Kosten berechnet. Natürlich kann man auf Anfrage sich mit bekannten Personen zusammenschließen, um ein Zimmer zu belegen. Dies sollte beim Ausfüllen der Online-Anmeldung angegeben werden. Dort können Sie die Namen der Personen hinzufügen, mit denen Sie ein Zimmer teilen möchten.
VERPFLEGUNG
Die Verpflegung (Frühstück, Mittag- und Abendessen) ist im Anmeldepaket enthalten.
SPRACHEN
Das Bootcamp wird in 3 Sprachen gehalten. Englisch, Deutsch und Französisch. Übersetzer-Headsets werden angeboten.
SBC 2022 - Français
Le Supernatural Boot Camp 2022 (SBC 2022) est un événement annuel organisé par ReachOut International, en collaboration avec l'Eglise Evangélique de Toutes les Nations (ECAN), Stuttgart et d'autres églises et ministères partenaires. Il rassemble des croyants de toute l'Europe et du monde entier dans un camp éloigné, sans distractions, pour participer à un camp d'entraînement sous la tutelle d'hommes de Dieu remplis de l'Esprit et ayant une expérience du surnaturel. Depuis sa création, le SBC a toujours bénéficié d'une atmosphère surnaturelle puissante et de manifestations sans précédent de la puissance, de la gloire et des merveilles de Dieu.
L'objectif de la SBC et de l'Ecole du Surnaturel est d'élever une culture surnaturelle de croyants par l'activation et la transmission de dons, des enseignements bibliques solides, des formations et des prières.
Cette année, la SBC 2022 sera placée sous le thème : "LA GLOIRE D'APRES (Aggée 2:9 ; Joël 2:23-32)". En cette saison, le monde est sur le point de voir la manifestation visible de la dernière gloire de Dieu dans des dimensions et des degrés comme il n'y en a jamais eu. Il est temps pour l'église de marcher dans des dimensions extrêmes de la gloire et des merveilles de Dieu. Il y a un déversement de gloire qui ouvre la voie à de plus grandes œuvres comme promis dans Jean 14:12. Nous sommes la génération qui reflétera la totalité de sa gloire sur terre.
CAMP POUR ENFANTS
Il y a également un 'Camp pour enfants' qui permet aux parents participant à l'événement de ne pas s'inquiéter de savoir où garder leurs enfants pendant le Bootcamp et de permettre aux enfants de passer un merveilleux moment avec le Seigneur. Veuillez vérifier les inscriptions pour les enfants.
HÉBERGEMENT
Le lieu d'accueil de cet événement sera le Bibel und Erholungsheim, Hohegrete MAT GmbH, 57589 Pracht, Rhénanie-Palatinat, qui est bien équipé avec des chambres individuelles, des chambres doubles et des chambres de groupe, ainsi que des chambres accessibles aux fauteuils roulants. L'environnement magnifique et calme offre un cadre unique pour la méditation, le calme et les rencontres surnaturelles.
Tous les participants inscrits seront logés sur le lieu de l'événement, sauf s'ils en décident autrement, à leurs propres frais. Les participants seront répartis dans les différentes chambres à leur arrivée sur le site du Bootcamp. Chacun doit être prêt à partager une chambre avec d'autres personnes en fonction de la répartition des participants. Les personnes qui se connaissent peuvent se regrouper pour occuper une chambre sur demande. Il convient de l'indiquer au moment de remplir l'inscription en ligne. Vous pourrez y ajouter le nom des personnes avec lesquelles vous souhaitez partager une chambre.
ALIMENTATION
L'alimentation (petit-déjeuner, déjeuner et dîner) est comprise dans le forfait d'inscription.
LANGUES
Le Bootcamp sera en 3 langues différentes. Anglais, allemand et français. (Des casques pour interprètes seront disponibles).
Theme: THE LATTER GLORY (Haggai 2:9, Joel 2:23-32)
Thema: DIE LETZTE HERRLICHKEIT (Haggai 2:9; Joel 2:23-3:5)