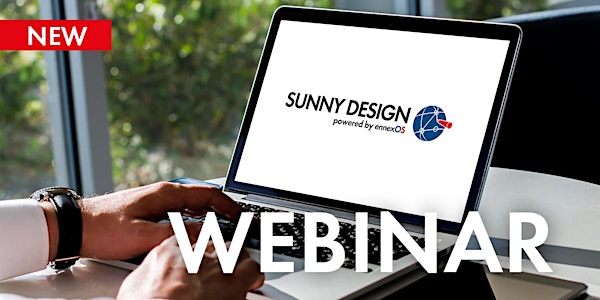 Sunny Design: Basics of plant design
Sunny Design: Basics of plant design| 15 Dec
About this event
Today´s PV systems are much more than feed-in systems. As comprehensive energy systems, they often intelligently combine the sectors electricity, heating and e-mobility. In this way, they contribute to a particularly sustainable energy supply and a successful energy transformation in households and businesses.
With our free planning software Sunny Design we support installers in the design and planning of these energy systems.
Learn how to rapidly design systems for the utilization of surplus feed-in. Profit not only from the extensive knowledge of our experts, but also from the many practical Sunny Design functions such as
• Comparison of different design variants
• Consideration of customer-specific load profiles
• Integration of e-mobility in private homes
In the webinar you will learn about all important functions also by live demonstration. And after the event, you can test and deepen the acquired knowledge directly and without additional costs at www.sunnydesignweb.com.
Content:
• Scope of functions and application possibilities of the planning software Sunny Design
• Import and export of data (projects and load profiles)
• Planning of a plant optimized for self-consumption
• System optimization with additional loads such as heat pumps
• System optimization with battery storage
• System optimization with e-mobility
• Profitability analysis
• Comparison of different designs
As always, you will get useful tips and tricks and have the option to ask questions via the integrated chat, that we will answer directly during the webinar.
Duration:
135 minutes, incl. 15 minutes break
Language:
English
Target group:
Installers, solar technicians, electrically qualified persons, sales professionals
Requirements:
Knowledge of photovoltaics, internet connection and suitable computer (e.g. notebook, tablet) in order to participate via browser or app.
You can comfortably attend this webinar from home via your computer or tablet. All you need is an up-to-date browser, an internet connection and speakers or a headset.
You will receive your access link for the webinar 30 minutes before the start of the webinar.