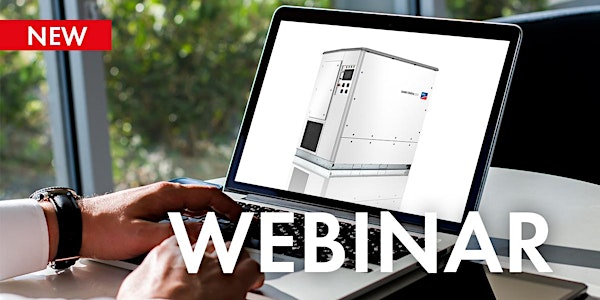 Sunny Central Storage battery inverters (Components & Virtual Support)
Sunny Central Storage battery inverters (Components & Virtual Support)| 24 Mar
About this event
Description:
System solutions with Sunny Central Storage battery inverters are used in storage power plants and PV hybrid systems worldwide.
They ensure the stability of transmission lines and reduce energy costs through the use of photovoltaic energy and large-scale battery-storage systems in hybrid power generation systems.
But in order to ensure the maximum efficiency and reliability of your large-scale storage system, technical insight into the inverter itself is key.
This training gives you the mentioned insight by taking you on a "guide tour" through the inverter.
Please note: 2 different webinars will be offered on this inverter, both on one day, but both with a different focus. Ref. also description of contents below.
Content:
Session a) Components & Virtual Support
Session b) Communication & Operation
Target group:
SMA customers with electrical knowledge
Mandatory Prerequisites:
Employee of an existing SMA Customer working with SMA Sunny Central inverters on-site
The participants of the course need to be qualified electricians, who are aware of the potential risks associated with electricity
Requirements:
Knowledge of photovoltaics, internet connection and suitable computer (e.g. notebook, tablet) in order to participate via browser or app.
You can comfortably attend this webinar from home via your computer or tablet. All you need is an up-to-date browser, an internet connection and speakers or a headset.
You will receive your access data for the webinar in your registration confirmation e-mail.
Duration:
75 min
Language:
English