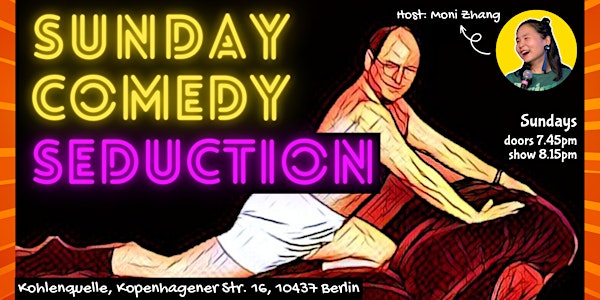 Sunday Comedy SEDUCTION: English Standup Comedy
A night of laughs and steamy seduction!
When and where
Date and time
Sunday, March 19 · 7:45 - 9:45pm CET
Location
Kohlenquelle Kopenhagener Straße 16 10437 Berlin Germany
About this event
It's time to let your hair down and get seduced by some comedy! We've got all the ingredients for a good time: great beer, a cozy atmosphere, and of course, 8 international & diverse comedians to make you laugh and blush.
Join us for a night of laughter, drinks, and more drinks at Kohlenquelle, the coziest bar in P'Berg. The only thing sexier than our jokes is the amazing beer selection🍺.
It's the kind of show that'll have you feeling all warm and fuzzy, but mostly cracking up like crazy. Just be sure to bring your sense of humor and a towel, you might need it! 🤪
🎤 Host by Moni Zhang 🇨🇳 (IG: @moni.zhang.comedy)
Winner of Berlin New Standup Award 2019 & Founder of Berlin Mental Health Festival. Moni is featured by BBC, Euronews, Scottish Field, and The Scotsman. Now touring with her Edinburgh Fringe 2022 Sell-out show "Child from Wuhan".
Check more info at www.monizhang.com
🤪🤪🤪 Lineup 🤪🤪🤪
🎤 Sofia May 🇺🇸 (IG: @sofiamaycomedy)
🎤 Emin Afandi 🇦🇿 (IG: afandi.emin)
🎤 Ricardo Bergeth 🇳🇴 (IG @ricardobergethcomedy)
🎤 Mihai Tartara 🇷🇴 (IG: @mihaithewerewolf)
🎤 Lorenzo Sinisi 🇮🇹 (IG: @pizzs_pasta_prosciutto)
🎤 Chris Loar 🇺🇸 (IG @ellenmaiorano)
🎤 Palma Palacios 🇩🇴 (IG: @palmapalacio)
with Headliner 🎤 Daniel Gutierrez 🇻🇪 (IG: @thedangutierrez)
& Host 🎤 Moni Zhang 🇨🇳 (IG: @moni.zhang.comedy)
Ticket:
👉 It's time to break the myth that laughter is free. Comics have rent to pay, Falafels to eat, and probably a few therapy bills to cover up their emotional scars from telling jokes for a living. We can't pay the bills with compliments or rainbows, we need cold hard cash.
👉 This ain't no free gig. It's a Pay What You Want situation. How does it work? You get to decide how much to donate AFTER you've laughed your butt off. If you're planning on soaking up the jokes without leaving a tip, better skip this show!
This is a professional-level gig, thus
💰 we suggest a donation of 15€ - 20€.
💰 Students & unemployed 7€ - 10€.
💰 We accept cards & cash.
❓ Is smoking allowed at the show?
👉 No!
❓ Wow, this show is so interesting, but I can't make it on this date :( When's the next one?
👉 Not sure yet! Follow Moni's Eventbrite Page to get notified of future shows.
❓ I want to perform. How may I sign up?
👉 This is an open mic, so even beginners can perform. Please go to the following link, on each event's discussion page to write "spot" and a one-sentence introduction to sign up. Please DO NOT pm me, it's very hard to keep track of direct messages!
https://www.facebook.com/moni.zhang.comedy/events/
When & where:
Sundays (except the last Sunday of the month)
Doors open: 7.45pm
Showtime: 8.15 - 9.45pm
📍 Kohlenquelle: Kopenhagener Str. 16, 10437 Berlin. Near Schönhauser Allee